Family-friendly itineraries to reimagine Singapore with
---
Singapore might be small, but the country has no shortage of places of interest, from parks and nature reserves to museums and playgrounds, for visitors to explore.
But of course, if you travel to Singapore with kids, there are things to take into consideration for the little ones' interest: such as how easy it is to get to a place, how fun it would be for kids, and so on.
Rest assured that we've got you covered with this list of the most family-friendly itineraries in Singapore, ranging from educational tours to nature explorations and entertainment activities.
---
– Educational tour of Singapore for families –
---
1. Singapore Discovery Centre – escape rooms, a 4D movie theater, and interactive galleries
---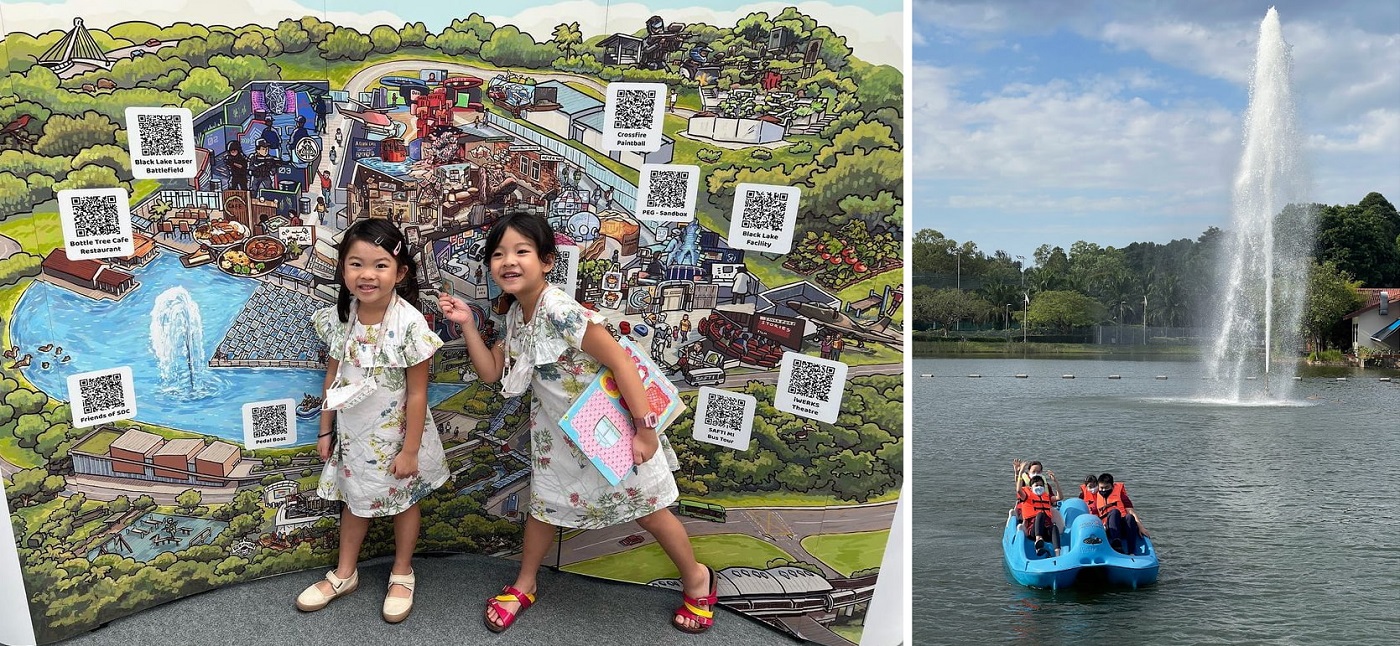 Image adapted from @jjschen80 and 3 wheelingtots
The Singapore Discovery Centre is the first place we'd recommend to any visitor interested in learning more about Singapore's story in a fun and engaging way.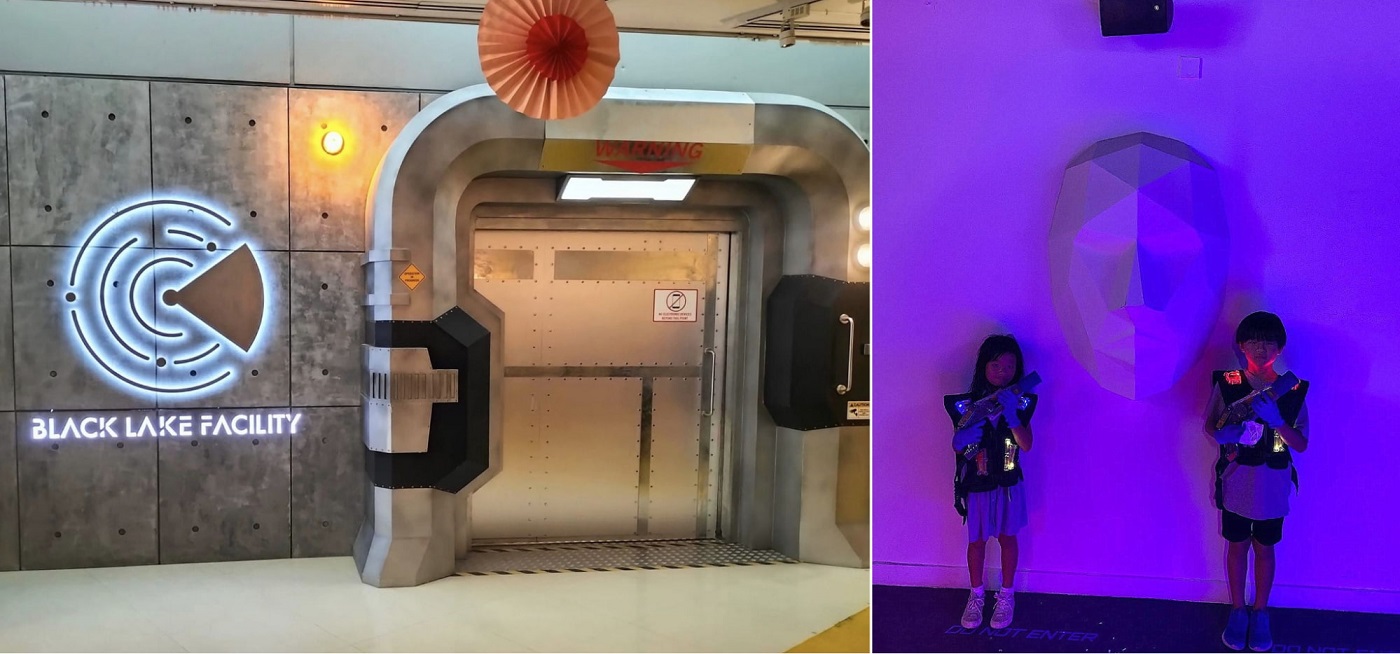 The escape room complex has you unravel the mysteries in 13 rooms of the Black Lake Facility, then duke it out at the indoor Black Lake Laser Battlefield.
Image credit: Germaine Goh and @sii.0923

The center is also an entertainment hub in its own right, housing the largest escape room complex in Singapore with 13 rooms of different themes. Or head over to the laser tag battlefield with your friends and family for some good old blasting fun.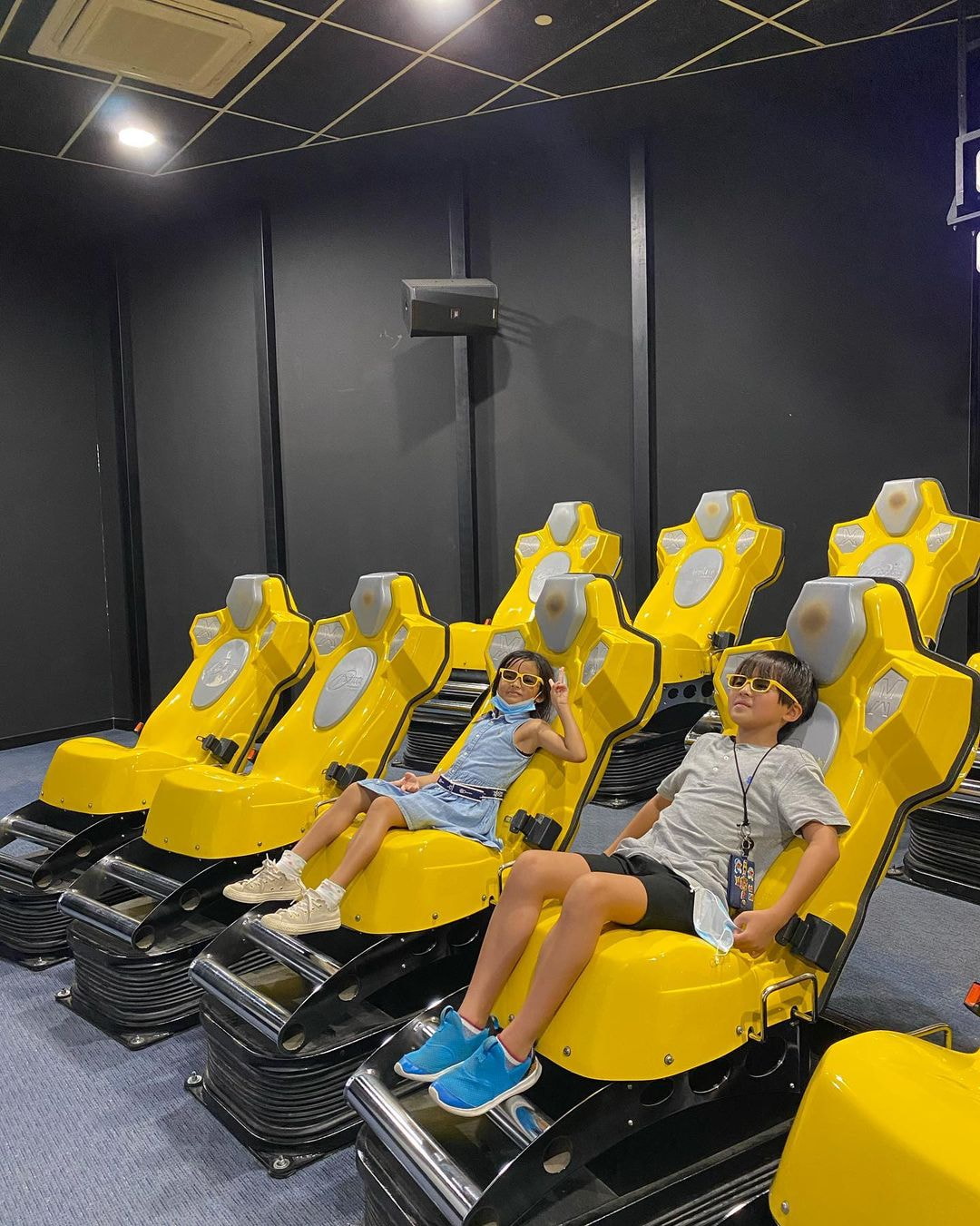 Image credit: @sii.0923

Alternatively, if you want exhilaration but with less physical effort, the XD Theatre (SGD10, ~Rp. 114,767 for adults, SGD8, ~Rp. 91,814 for children aged 3-12) offers a 4D movie experience. Feel as if you've been transported into the movie, with the shaking seats, water sprays, and immersive sounds in the theater.
Or take the family on a scenic 15-minute pedal boat ride on the Discovery Lake, for leisurely exploration at your own pace.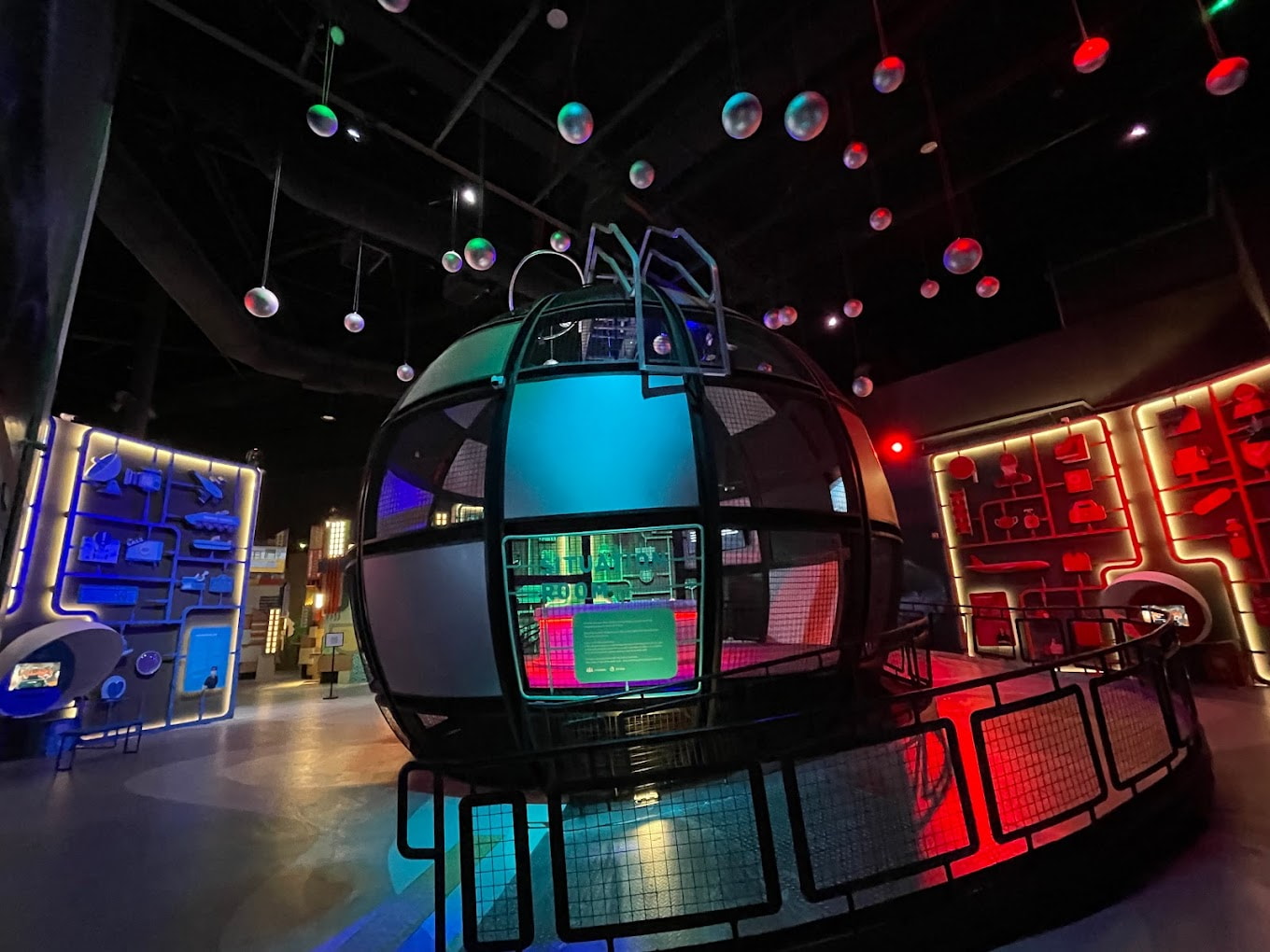 Image credit: Merife Bernaldez
While here, also explore the expansive interactive gallery called Through The Lens Of Time that retells Singapore's history via life-sized 3D props, perfect for family photos, as well as hands-on games, simulations of iconic battles, and short films.
You'll get to learn all the key moments and milestones of Singapore's history. We also recommend downloading the mySDC app for AR games that offer a fun and interactive take on different historical events.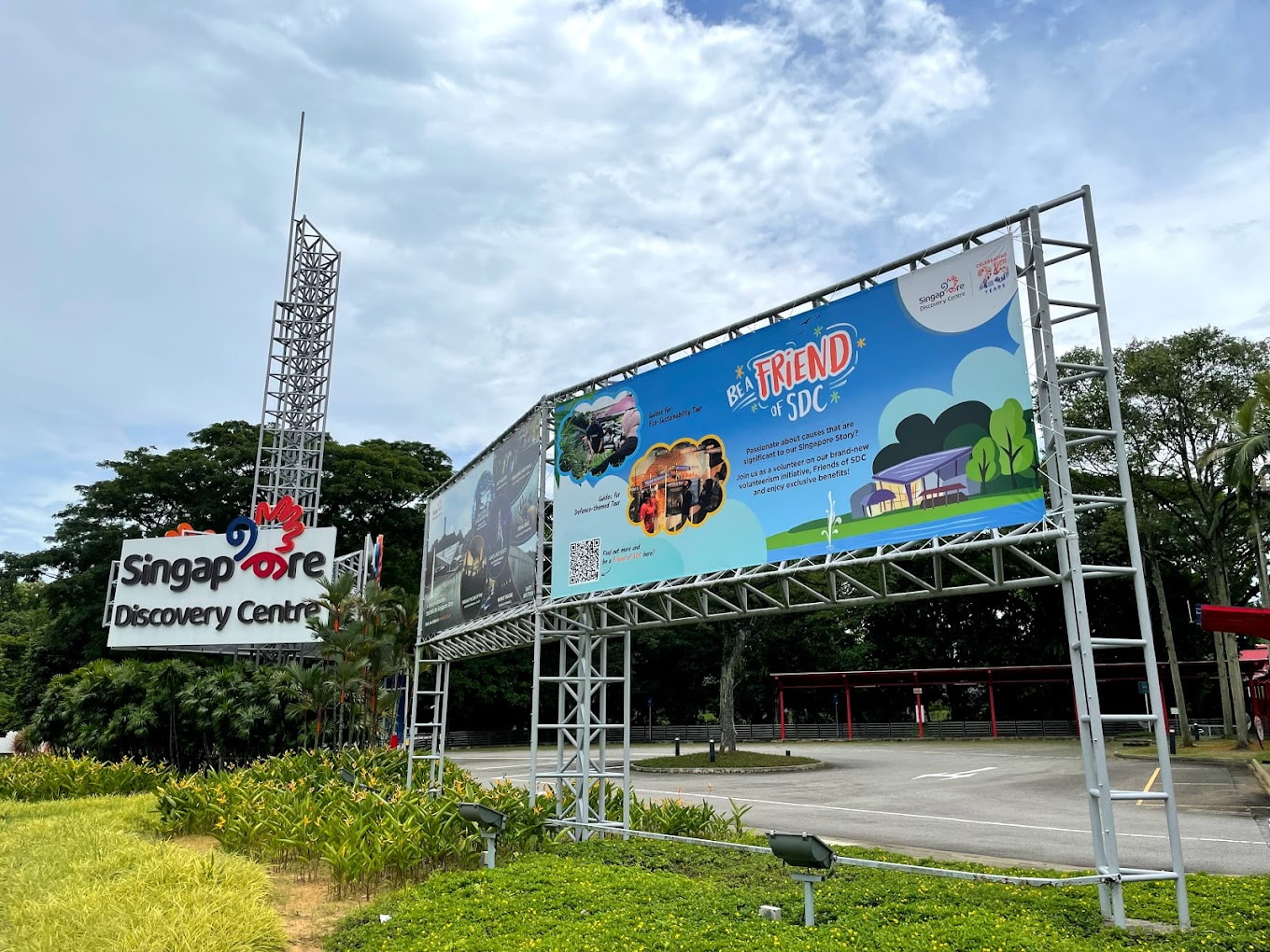 Image credit: Zhou Dong

Address: 510 Upper Jurong Road, Singapore 638365
Opening hours: Mon-Fri 12pm-7pm | Sat-Sun 11am-8pm
Contact: +65 6792 6188 | Singapore Discovery Centre website
Admission fees (for each permanent exhibit – Through The Lens Of Time and Sandbox)
Non-Singaporeans: SGD8, ~Rp. 91,789 (Child ticket) | SGD10, ~Rp. 114,736 (Above 13 years old)
Singaporeans and PRs: Free
Guided tours: SGD4, ~Rp. 45,881 (3 times/day on weekdays; 4 times/day on weekends, and public and school holidays)
Note: Additional charges apply for entry to escape rooms, the laser tag battlefield, and the movie theater.
---
2. Singapore Science Centre – interactive games that explain science
---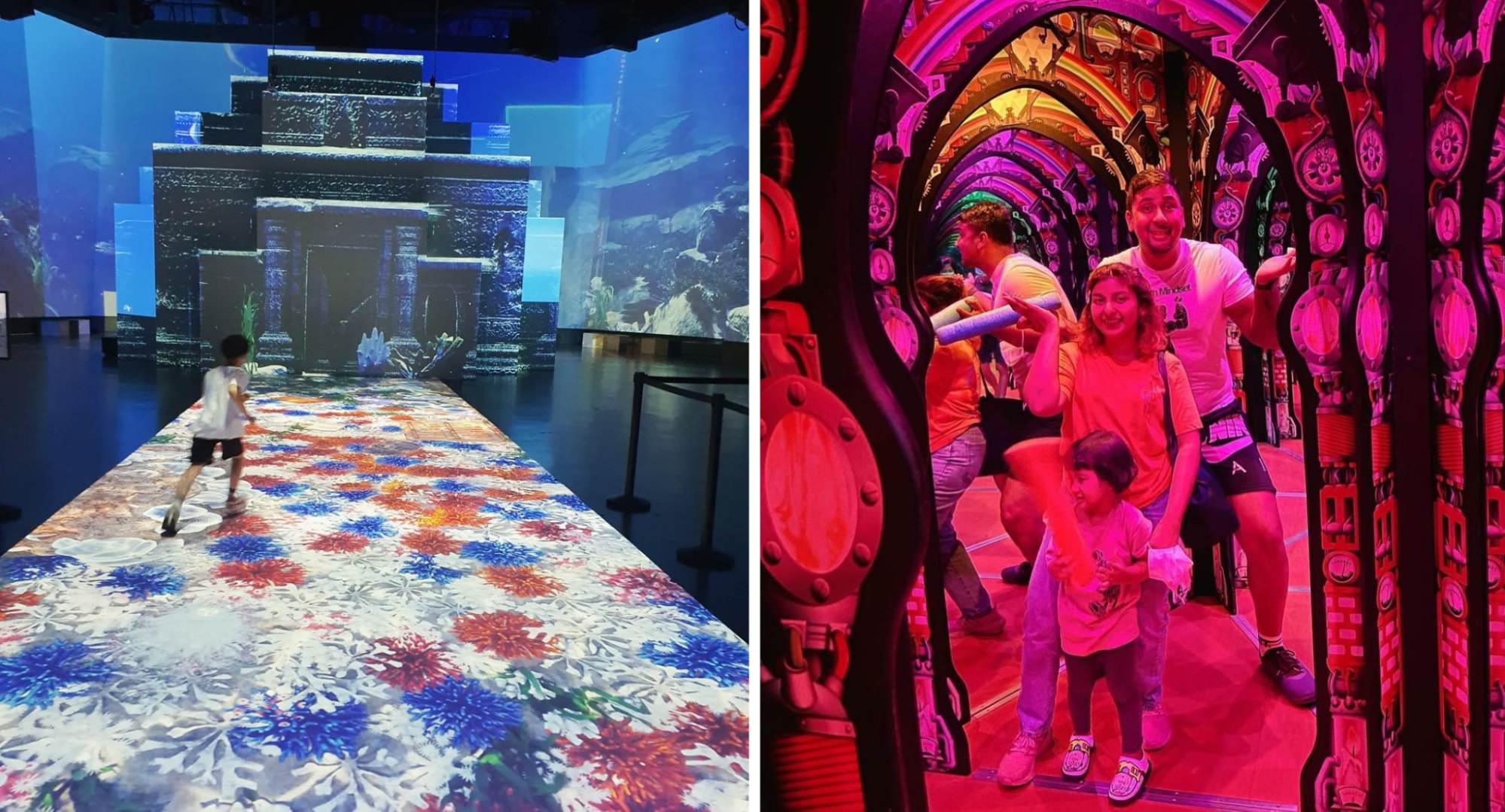 Image adapted from @dalha_pum and @sciencecentresg

Most parents probably know it's not always easy to get kids into science with all its supposedly boring theories and formulae. Well, the Singapore Science Centre might help with that.
Here, visitors can discover astonishing facts about various science topics from the ecology of the Earth, to the workings of energy and fire – all presented in interactive and fun ways.
Put on 3D goggles to experience what it's like to soar over Singapore's skies, or create mountains and landscapes with your hands by molding and contouring sand at the AR sandbox.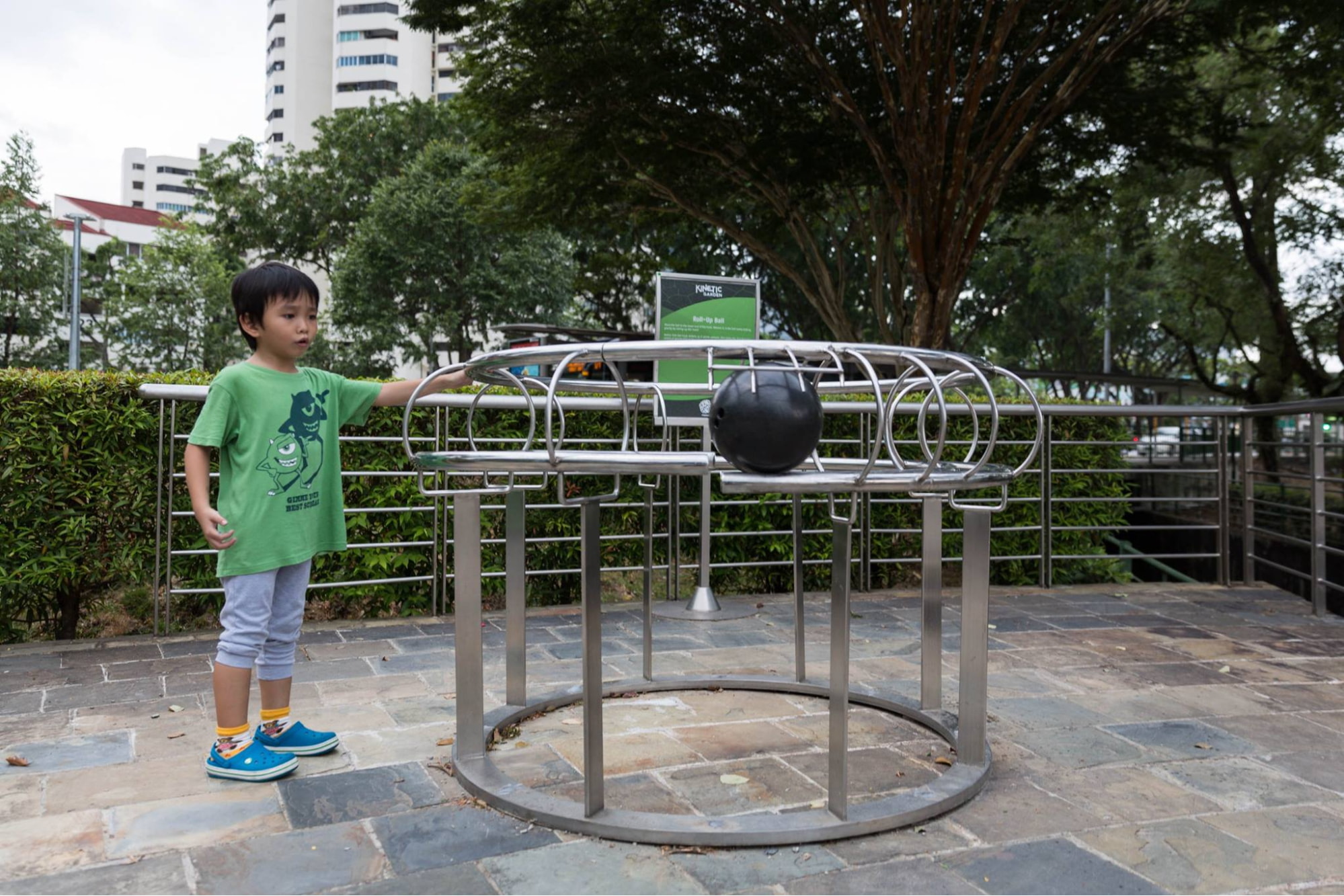 The Roll-Up Ball.
Image credit: Dezign Format
Don't miss out on the Science Centre's outdoor science experiences. Visit the Kinetic Garden, which is built to turn physics phenomena into fun times. Use an Archimedes' screw, a recreation of one of the first water pumps created by man, to scoop up water without electricity. Or watch a ball appear to roll up a ramp with the Roll-Up Ball model.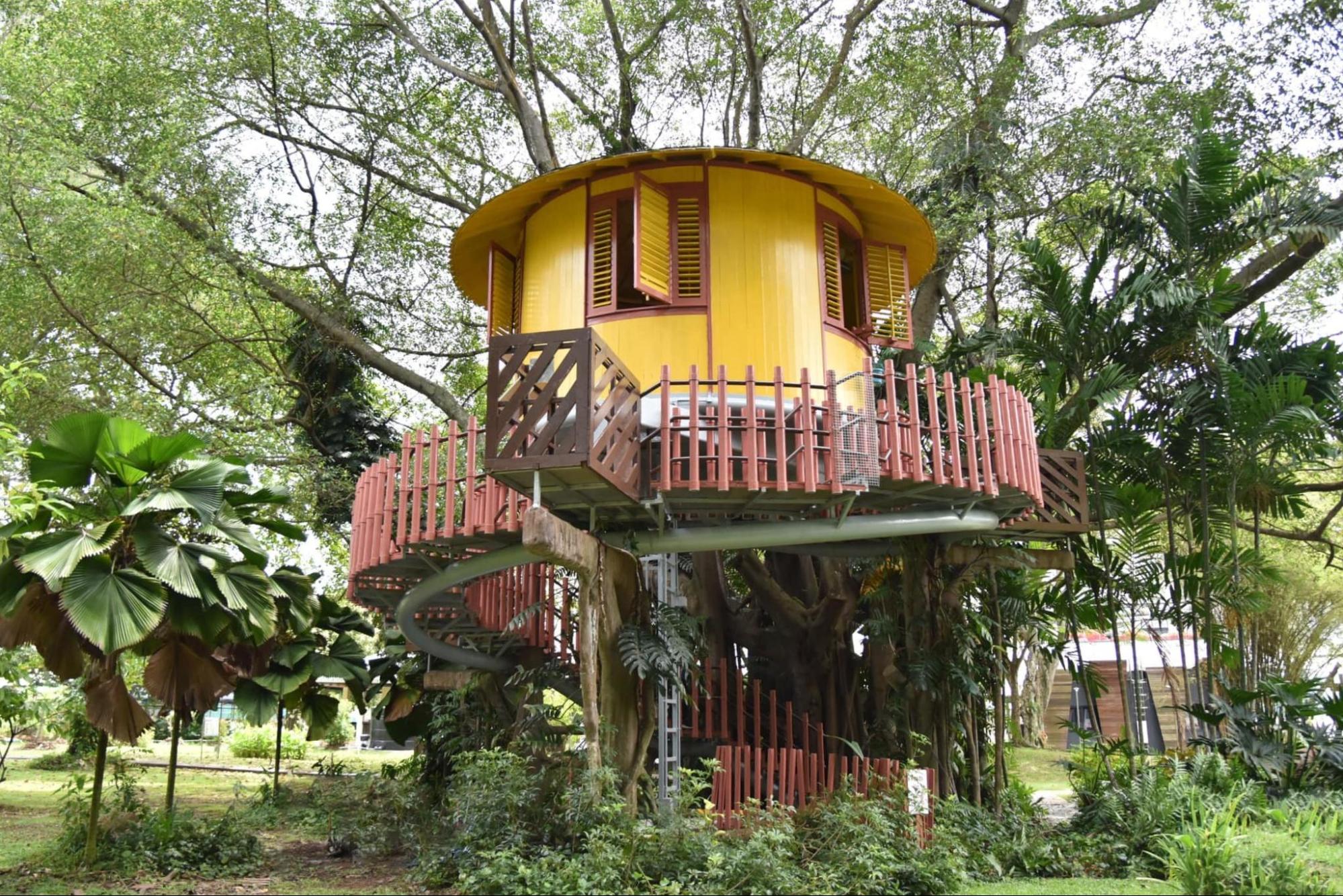 Image credit: Science Centre Singapore
After having fun at the Kinetic Garden, unwind with a walk amidst nature at the ecogarden, a verdant space with signs providing educational facts you might not know about the most common of plants.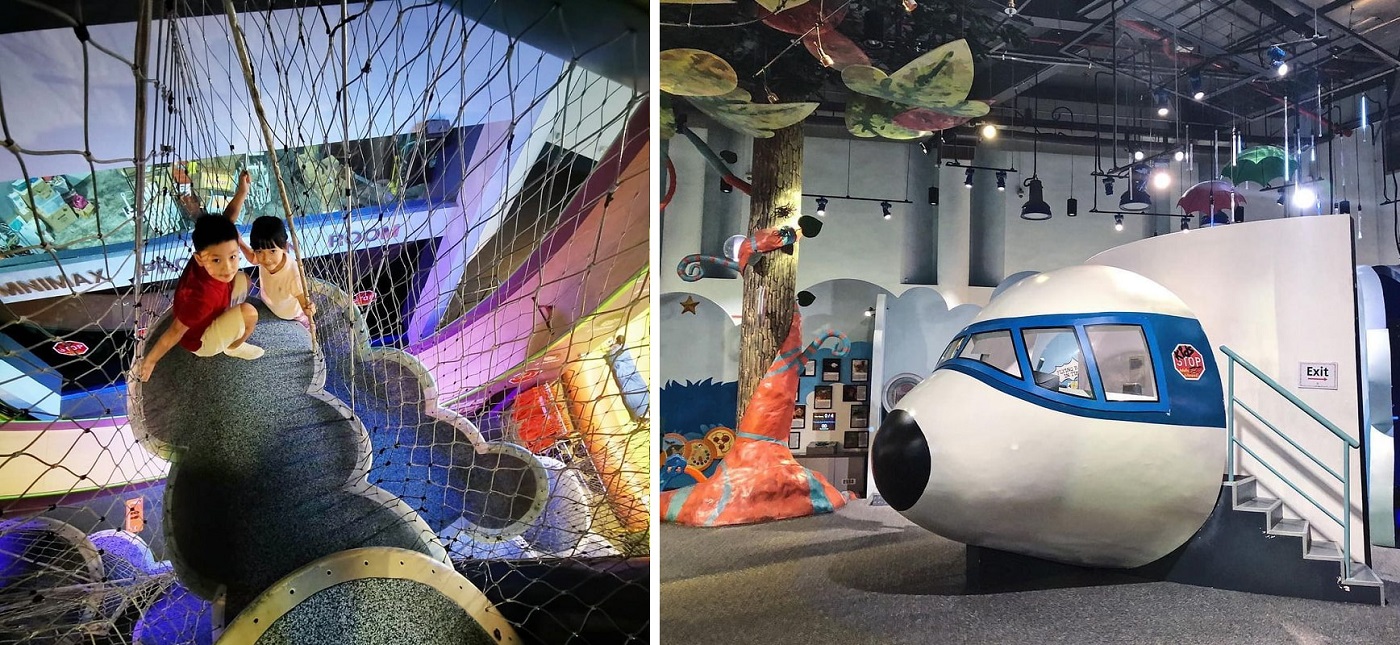 KidsSTOP's educational play zones, from the 9m-high Dream Climber that builds coordination and navigation skills (left), to a replica of a pilot's cabin (right).
Image credit: @kidsstopsg, @qingxiantan81, and @museum.goer
Your kids will no doubt also love the center's KidsSTOP section, which comes with 20 installations across different themes from flight and space to marine conservation to our built environment, specifically designed to provide educational fun to children between 18 months and 8 years old.
There's a sand pit where they can role-play as archaeologists digging for dinosaur fossils, and a Critter Room for them to gawk at living frogs, hermit crabs, and other small animals, just to name a few highlights here.
Address: 15 Science Centre Road, Singapore 609081
Opening hours: Tue-Sun 10am-5pm (Closed on Mondays except public holidays)
KidsSTOP opening hours: 10am-1pm (last entry 12.15pm) and 2pm-5pm (last entry 4.15pm), daily. Bookings needed.
Contact: +65 6425 2500 | Singapore Science Centre website
Admission fees:
Non-Singaporeans, peak dates: SGD12, ~Rp. 137,648 (adults and seniors) | SGD8, ~Rp. 91,765 (children 3-12 years old)
Singaporeans and PRs, peak dates: SGD6, ~Rp. 68,824 (adults) | SGD4, ~Rp. 45,883 (children 3-12 years old & seniors from 60 years old)
---
3. Keppel Centre for Art Education, National Gallery Singapore – interactive displays for kids
---


The National Gallery Singapore (left) houses the Keppel Centre For Art Education (right).
Image adapted from VisitSingapore.com and Arun Kahaduwaarachchi

The National Gallery Singapore used to be Singapore's Supreme Court and City Hall. Today, it houses an expansive collection of historical artifacts and modern art, but for families with kids, we want to draw your attention specifically to the Keppel Centre For Art Education.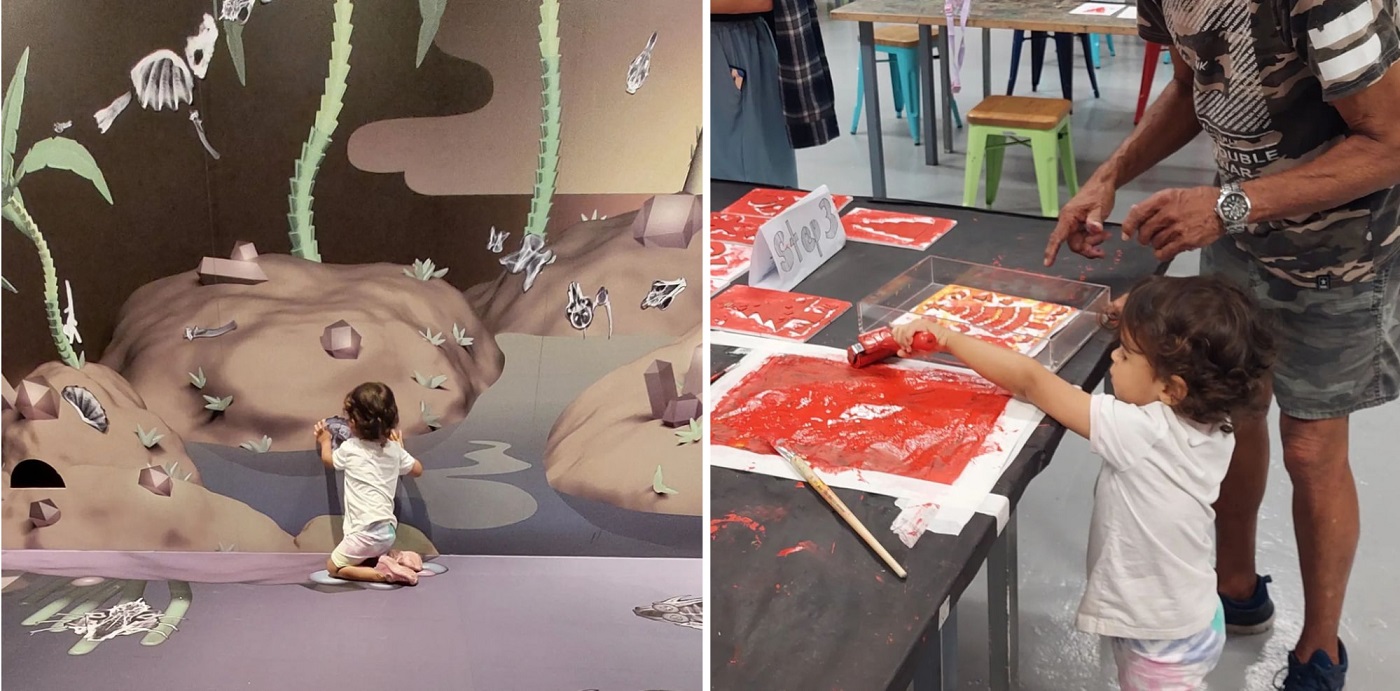 Image credit: @playinsingapore
The center is actually spread across 4 sections of the National Gallery – the Art Corridor, Art Playscape, Project Gallery, and Children's Museum workshop area – and aims to encourage creativity, imagination, and exploration in children.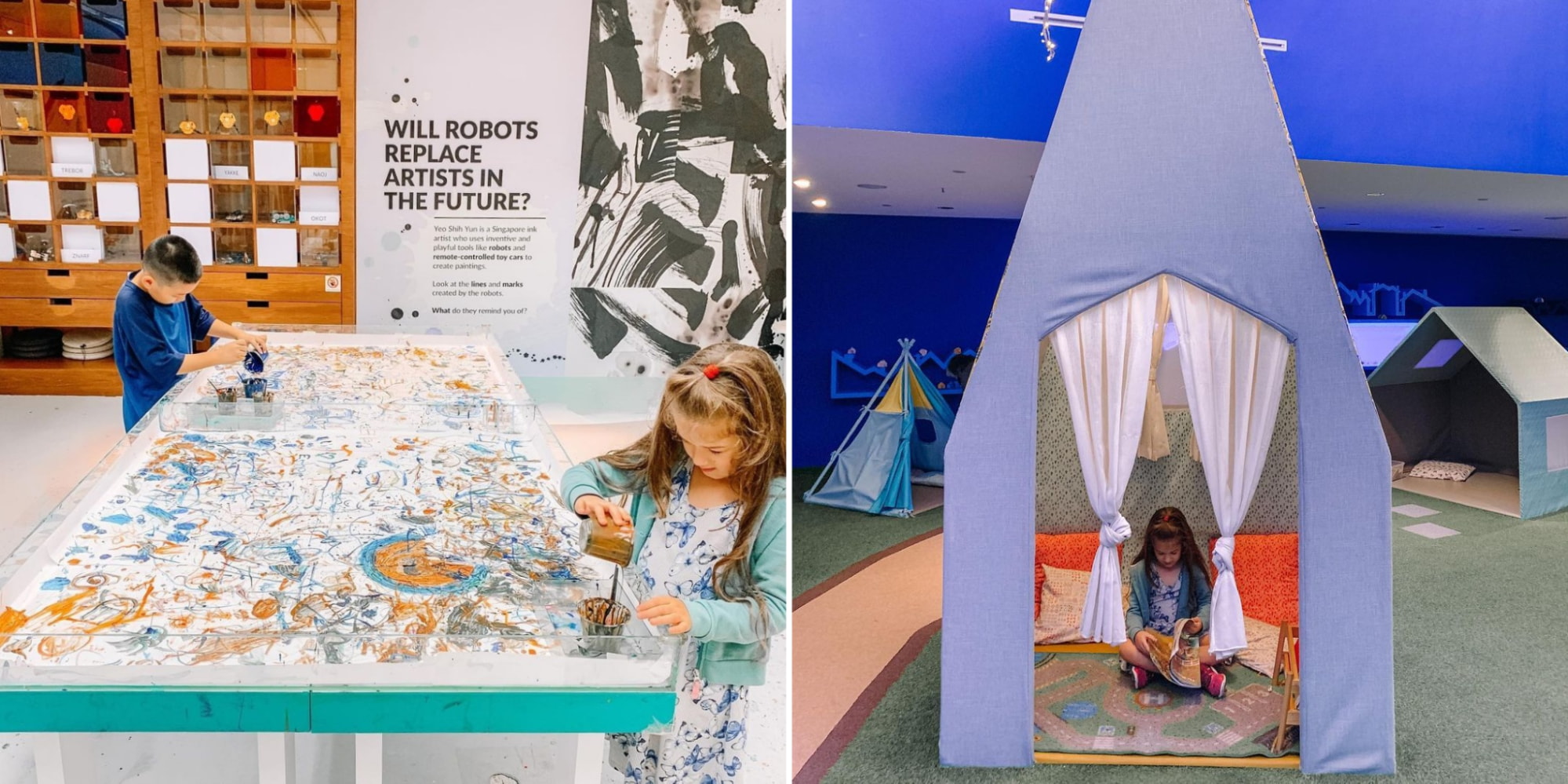 Image adapted from @raising_little_travellers
Across the vibrant spaces, your kids can participate in workshops on how to create art using ink, brushes, and other tools, or play around with animal-shaped magnets on a mural to create their own stories.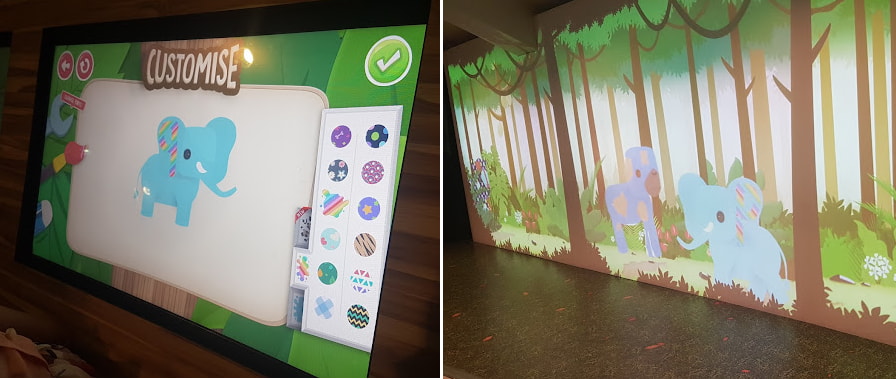 Draw animals on a tablet, and it'll appear on a digital wall screen.
Image adapted from Uraiwan T. (left) and Uraiwan T. (right)
There's also an interactive display area, called Who's in the Woods, featuring a large screen depicting a forest scene. Your kids can breathe life into this forest by drawing animals on digital tablets. Like magic, these animals will come to life on the screen.
Address: 1 St Andrew's Road, Singapore 178957
Opening hours: 10am-12pm & 12.30pm-7pm, Daily
Contact: +65 6271 7000 | Keppel Centre For Art Education website
Note: Access to the Keppel Centre For Art Education is free, but non-Singaporean visitors will need to buy tickets to access other galleries in the museum.
---
– Tour of Singapore attractions for families –
---
4. Museum of Ice Cream Singapore – free-flow ice cream in an Instagrammable space
---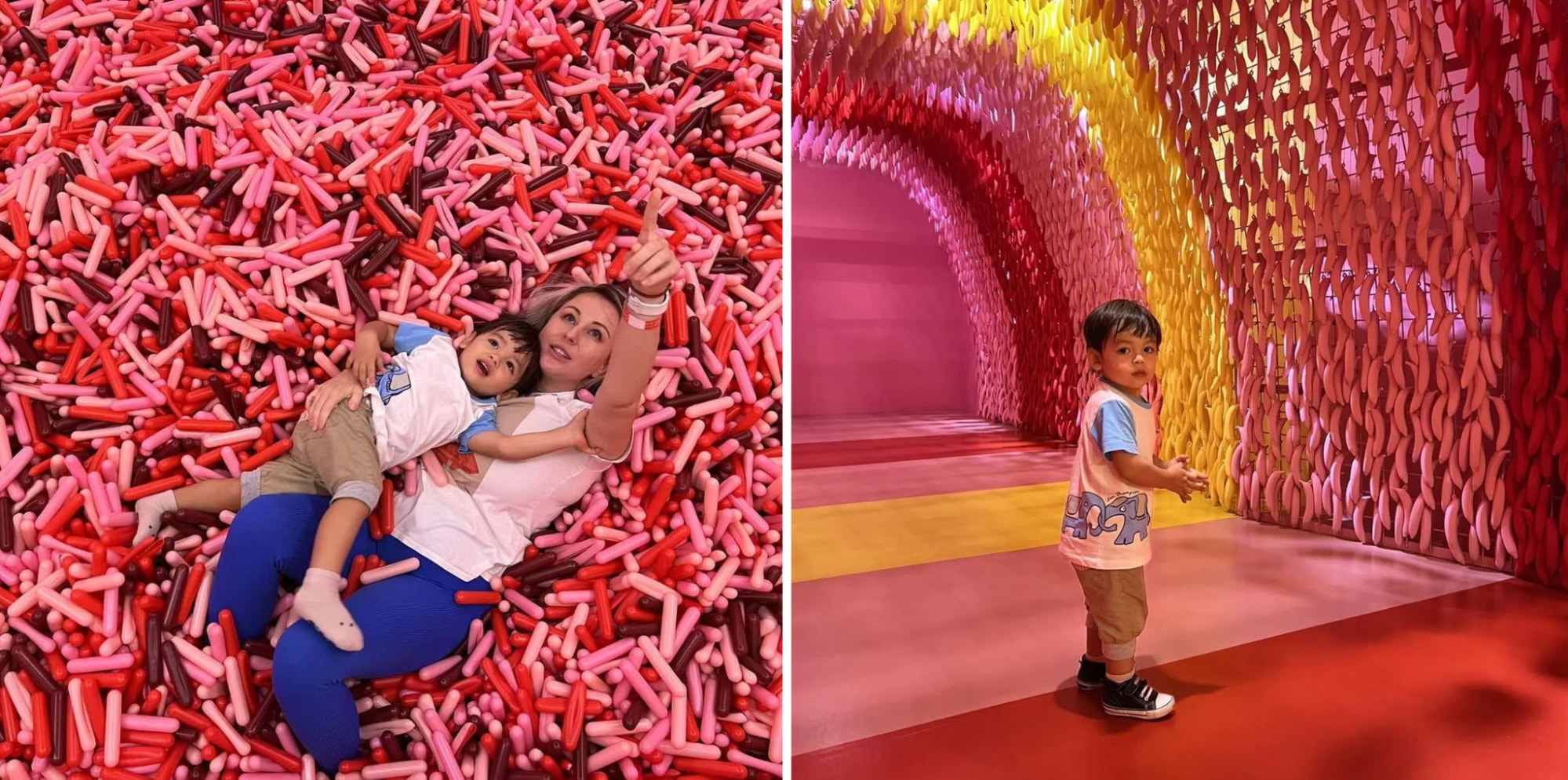 Image adapted from: @elenamood_journey
The Museum of Ice Cream Singapore pays tribute to one of the world's most well-loved desserts across its 14 installations, and is the museum's first location outside the US.


Image adapted from Rachmalia Dewi and Joycelyn Yeoh
The museum is less about how ice cream is made, and more about creative props inspired by the treat. Let your kids have their fun at a quirky playground with fruit-shaped swings and ice cream truck models, and dive into the Sprinkle Pool – a ball pool, but with colorful models of ice cream sticks instead of balls.
These are just a few of the 14 imagination-stimulating multisensory and interactive installations at the museum, which offers guided 60- to 90-minute tours. You can also help yourself to unlimited ice cream from the 5 booths dotted around the museum.
Each booth serves different ice cream flavors, with up to 10 add-ons to choose from – including dairy-free products.
Enjoy 15% off when you purchase 4 or more tickets with VISA online – and skip the ticketing queue at the door!
Address: 100 Loewen Road, Dempsey, Singapore 248837
Opening hours: Thu-Sun 10am-10pm (Closed Mon-Wed)
Contact: Museum of Ice Cream website | Facebook | Instagram
Admission fees:
Weekdays: SGD36, ~Rp. 412,950 (before 5.30pm) | SGD46, ~Rp. 527,659 (after 6pm)
Weekends, eves of public holidays, and public holidays: SGD42, ~Rp. 481,775 (before 5.30pm) | SGD52, ~Rp. 596,484 (after 6pm)
---
5. SuperPark Singapore – indoor playground with physical activities
---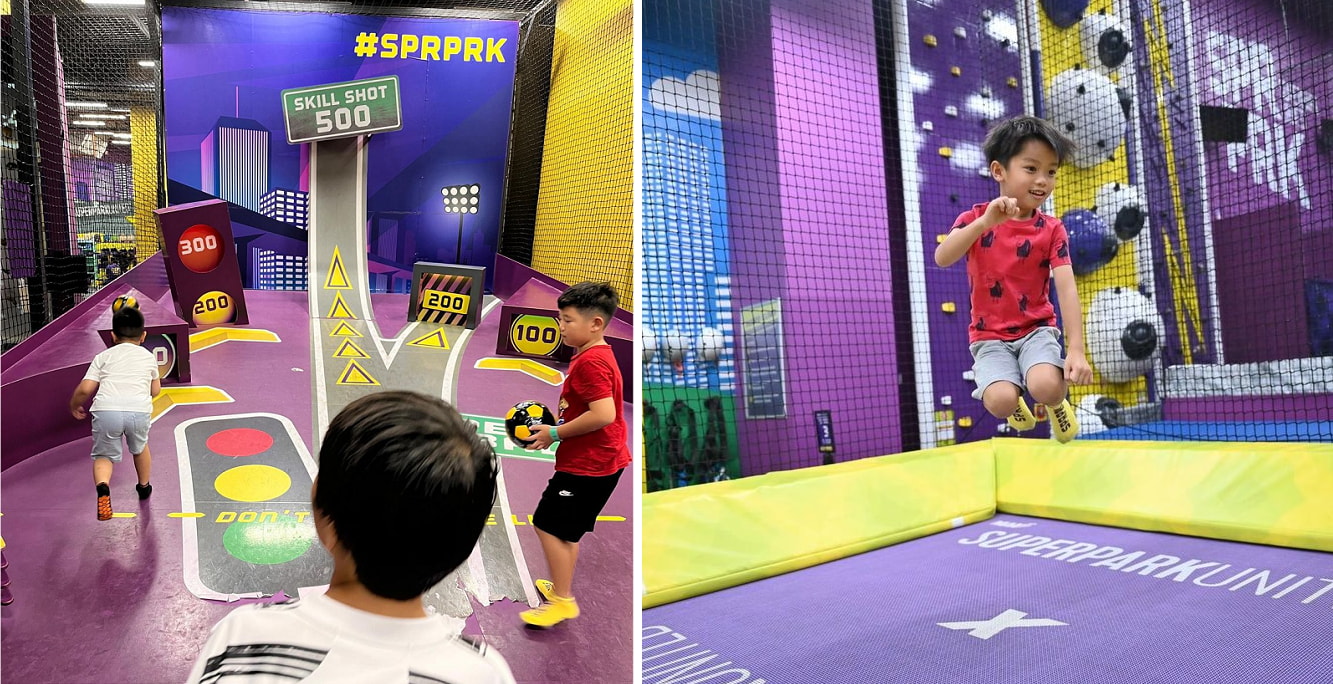 Image adapted from @littlepearhead and @superparksg
SuperPark Singapore is a massive indoor playground in Singapore. Featuring a plethora of physical activities suitable for all age groups, it makes for a good destination for both families and groups of friends to exercise and have fun at the same time.
Some highlights here include an archery area, ziplines, and swings. Head over to the Freestyle Hall for thrilling activities such as indoor rock climbing and skateboarding.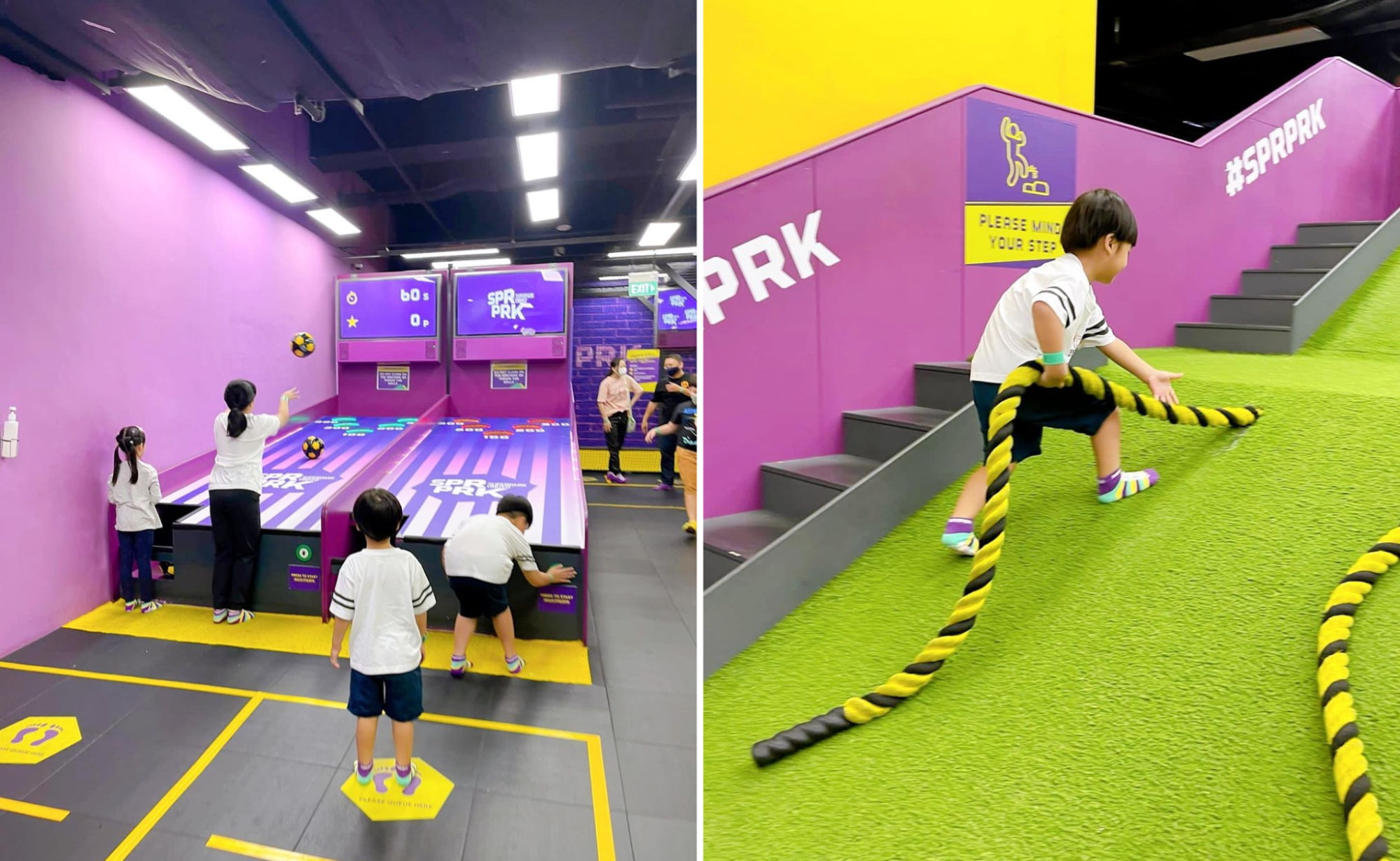 Image adapted from @val_8rie
For kids, there's an adventure area where they can engage in simple but fun challenges such as climbing towers, crawling through tunnels, and sliding down tubes.
You can also employ the aid of digital devices at the iWall, and try a virtual parkour race across the building roofs of many different cities around the world.
Address: #02-477 Suntec City Tower 1, North Wing, 3 Temasek Boulevard, Singapore 038983
Opening hours: Mon-Fri 10.30am-8pm | Sat-Sun 9am-9pm
Contact: +65 6239 5360 | SuperPark Singapore website | Facebook | Instagram
Admission fees:
Weekdays, 3-hour slots: SGD30.90, ~Rp. 354,449
Weekends, 2-hour slots: SGD33.90, ~Rp. 388,861
Children under 100cm in height, all dates, 2-3 hour slots: SGD22.90, ~Rp. 262,682
---
6. Kiztopia @ Marina Square – massive playground with an accessible café
---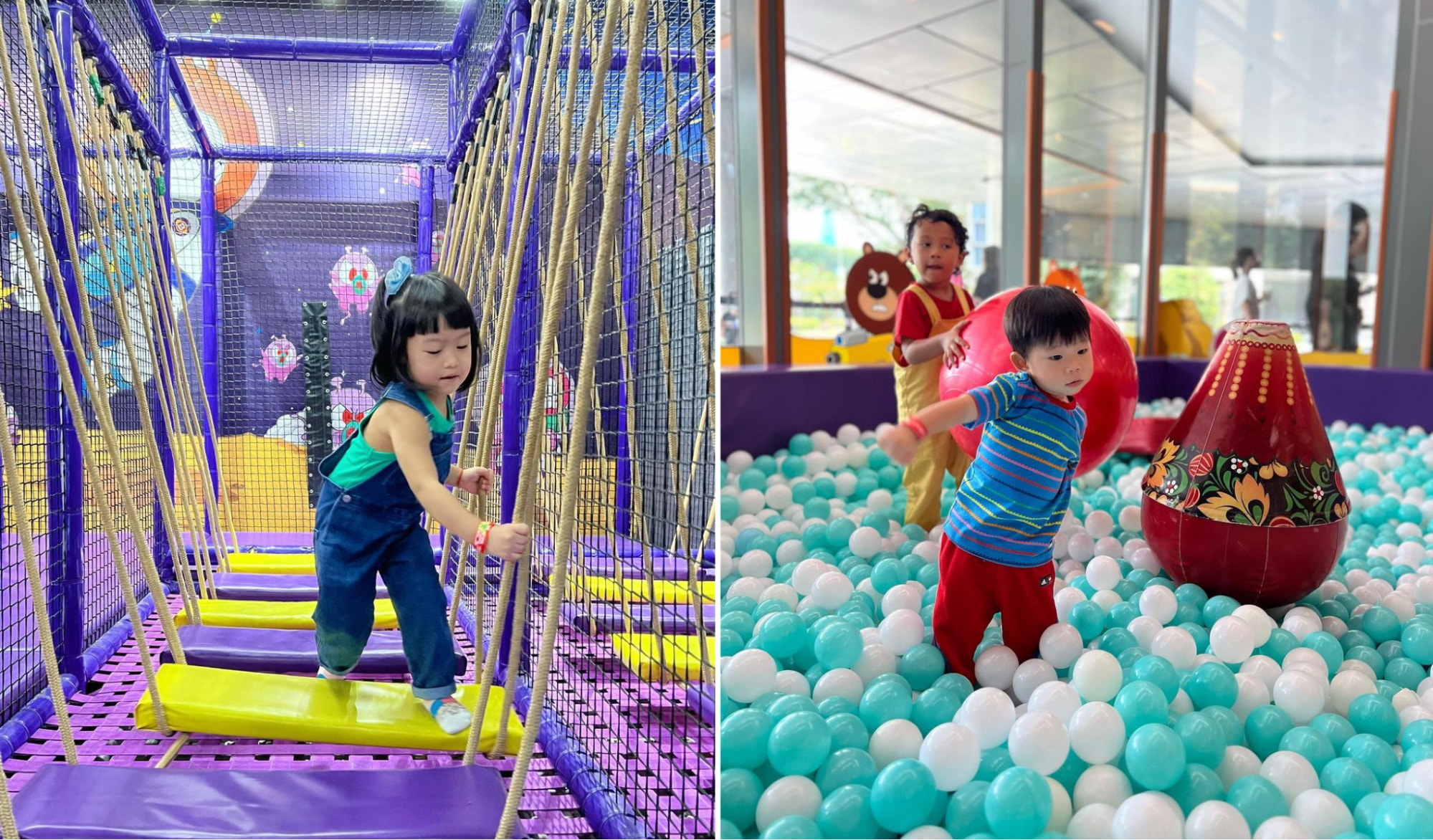 Image adapted from @babyellllllllll and @shanelee_zh
As you can probably tell by the name, Kiztopia is a major playground in Singapore designed to be an utopia for kids. The brand has many outlets around Singapore, but its flagship Marina Square outlet boasts 18 play areas and offers hours of fun for your kids.
Let them fulfil their dreams of becoming astronauts or racers by donning the many costumes available here for pictures, or indulge in their love for vehicles by riding a toy train.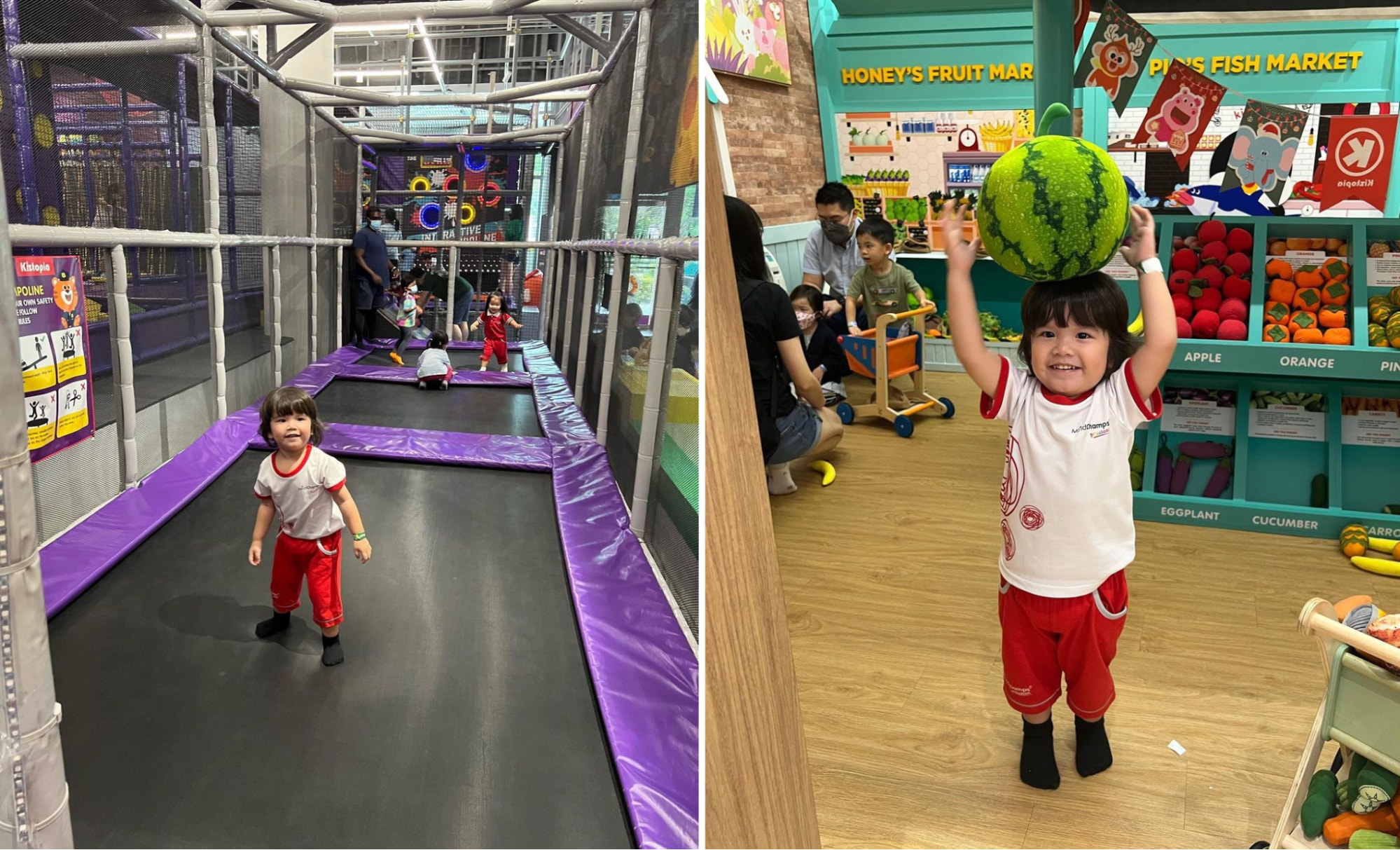 Image adapted from @babyreusss
A mega ball pool, 2-storey slides, and climbing courses mean there's never a shortage of things to do here.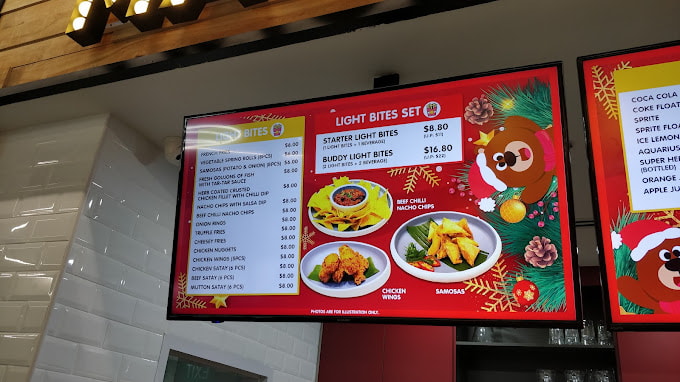 Part of the cafe menu
Image credit: David Tan
And when the kids are tired from all the play, take them to the in-house café, which is a convenient place to rest and recharge. Browse the menu for sandwiches (from SGD14.90, ~Rp. 171,018), pizzas (from SGD10.90, ~Rp. 125,096), and steaks (SGD30.90, ~Rp. 354,630) for a filling meal.
Alternatively, your kids will love kid meal options such as toast & eggs (SGD8.90, ~Rp. 102,143) or macaroni bolognese (SGD9.90, ~Rp. 113,619).
Address: #01-09 Marina Square, Singapore 039594
Opening hours: Mon-Thu 10am-9am | Fri-Sun 10am-10pm
Contact: +65 8201 0393 | Kiztopia website
Admission fee: SGD29.80, ~Rp. 341,832 (1 hour) | SGD38.80, ~Rp. 445,070 (2 hours)
---
– Nature tour of Singapore for families –
---
7. Mandai Wildlife Reserve – 4-in-1 wildlife and nature experience at one place
---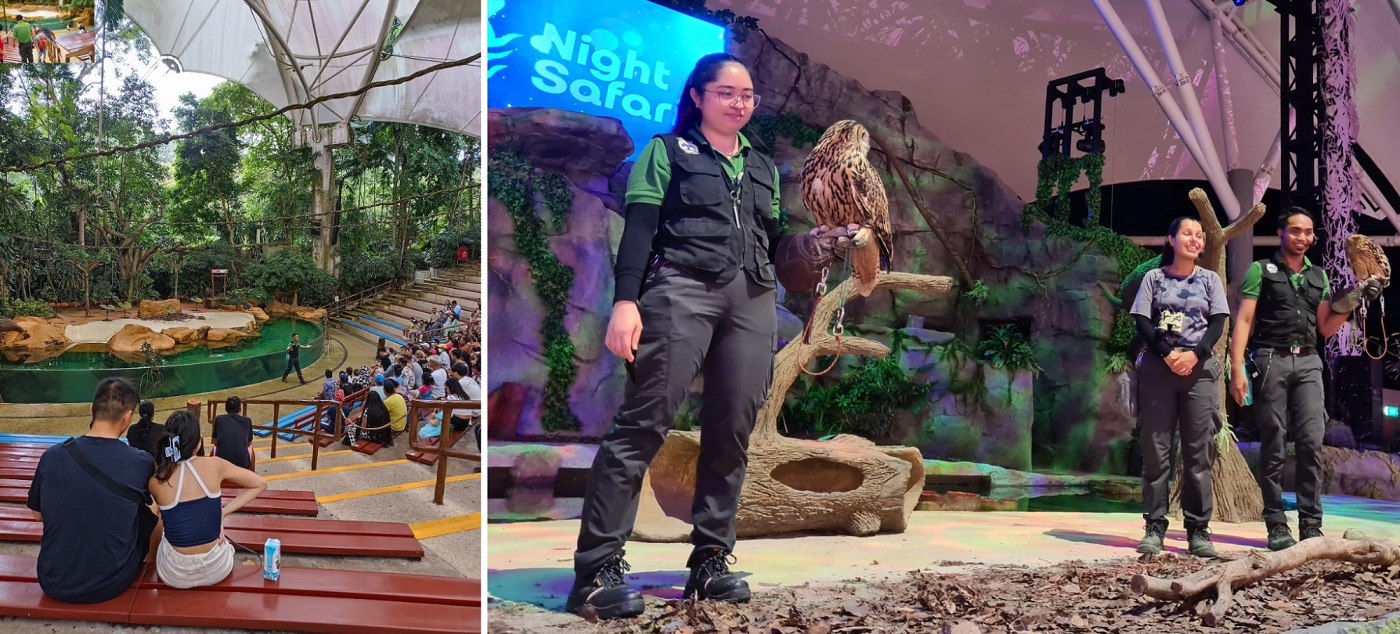 The Singapore Zoo (left) and the Night Safari offer animal shows.
Image adapted from Namfon Poonperm and cher wei
The 4-in-1 Mandai Wildlife Reserve is arguably the most iconic destination to visit in Singapore for nature and wildlife lovers, housing the Singapore Zoo, Night Safari, River Wonders, and soon, Bird Paradise.
The Singapore Zoo is home to 4,200 species of land animals and reptiles. Come here to see lions, white tigers, elephants, and rhinoceros living in comfortable enclosures resembling their natural habitat.
At different times of day, visitors are allowed to get up close with the animals at different enclosures and feed them under the supervision of zookeepers.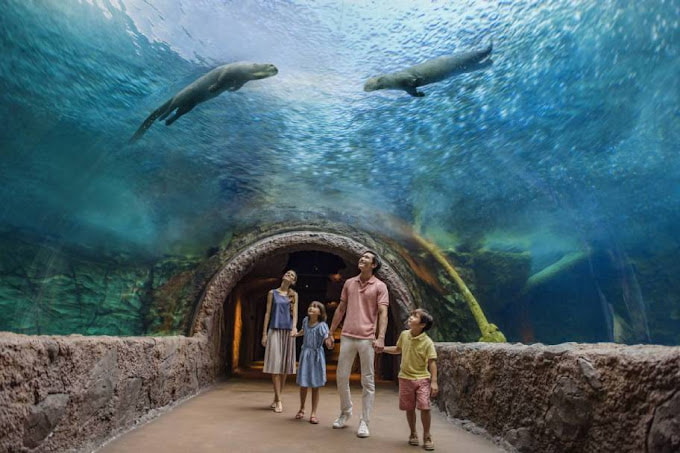 Image credit: River Wonders
Also consider dropping by the River Wonders – Asia's first and only river-themed wildlife park – to see giant pandas, manatees, otters, and more across its 9 different zones, named after famous rivers around the world such as the Amazon or the Mekong River.


Image adapted from Owen Jones and Kevin Kambo
For a fee of only SGD5 (~Rp. 57,384), you can embark on the Amazon River Quest tour, designed to simulate the experience of exploring the Amazon River and its rainforest. You'll be taken down streams on a boat, gawking at jaguars, tapirs, and anteaters along the "river bank".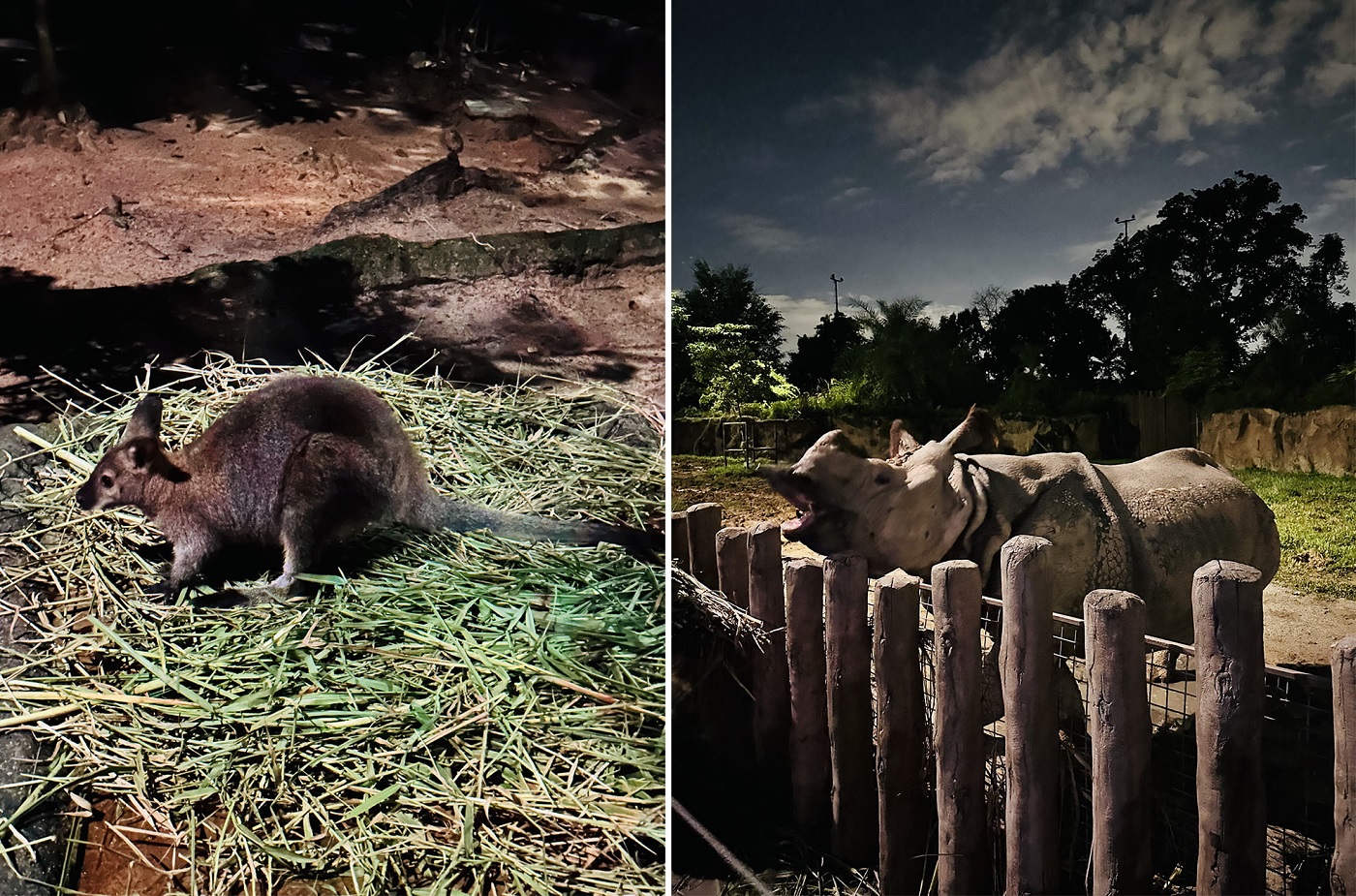 Image adapted from Veer Yemula
The Night Safari, meanwhile, is recognized as the world's first nocturnal zoo by the Guinness World Records. Book a Safari Adventure Tour to ride a buggy across the park, accompanied by a guide who'll walk you through how to get up close and personal with the animals and share many fun facts about them.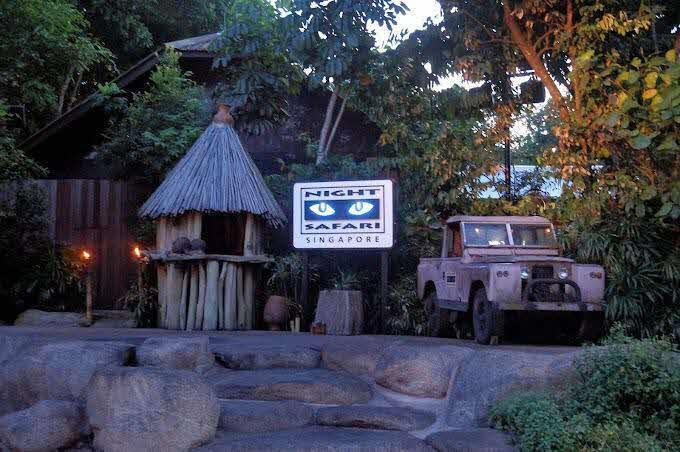 Image credit: Jervis Leung
Bird Paradise, as you can tell by the name, is home to hundreds of aerial animals, from colorful parrots to flamingos and toucans. After half a century of operations under its former name Jurong Bird Park, it's currently being relocated to Mandai and scheduled to open in the second quarter of 2023.
Contact: +65 6269 3411 | Mandai Wildlife Reserve website
Admission fees for foreigners (including tram service where applicable):
Night Safari: SGD55 adults, SGD38 children aged 3-12 (~Rp. 630,670, Rp. 435,736)
Singapore Zoo: SGD48 adults, SGD33 children aged 3-12 (~Rp. 550,308, Rp. 378,336)
River Wonders: SGD40 adults, SGD28 children aged 3-12 (~Rp. 458,590, Rp. 321,013)
2-Park tickets: SGD78-SGD88 adults, SGD50-60 children aged 3-12 (~Rp. 894,250-Rp. 1,008,897, ~Rp. 573,237-Rp. 687,885)
3-ParkHopper tickets: SGD98 adults, SGD70 children aged 3-12 (~Rp. 1,123,545, Rp. 802,532)
Address: 80 Mandai Lake Road, Singapore 729826
Opening hours:
Night Safari: 7.15pm-12am, Daily (Last entry at 11.15pm)
River Wonders: 10am-7pm, Daily (Last entry at 6pm)
Singapore Zoo: 8.30am-6pm, Daily (Last entry at 5pm)
---
8. Singapore Botanic Gardens – learn about adventure, gardening, or naturalist work at the Jacob Ballas Children's Garden
---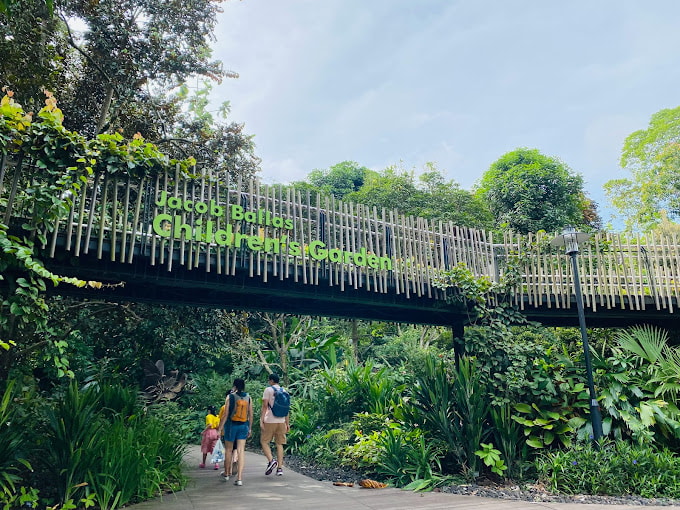 Image adapted from: Jlor
Part of the Singapore Botanic Gardens, the Jacob Ballas Children's Garden is touted as Asia's first children-focused garden. The place is a little tropical forest in its own right, complete with its own streams and ponds.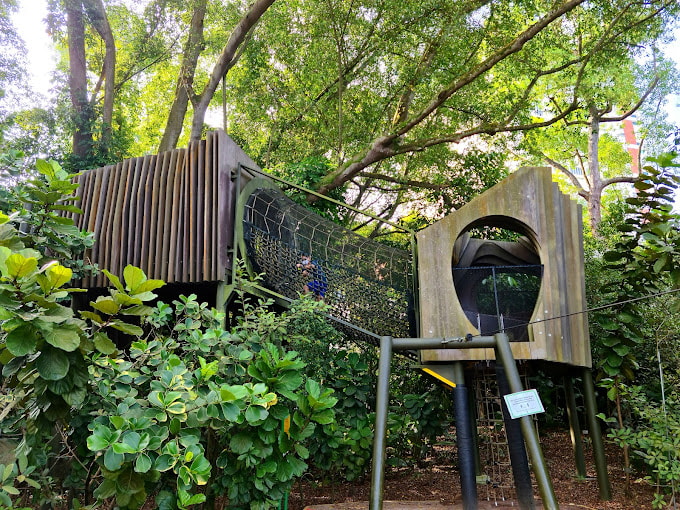 Image credit: Vincent Khoo
Here, your kids can embark on an adventure as they navigate through a maze made from plant bushes, before conquering a treehouse equipped with slides and crossing a suspension bridge – surrounded by verdant trees and rocks.
And for the young ones with an interest in learning about the ways of nature and gardening, take them to the farm and orchard here to learn about how fruits are grown. They can try their hand at planting tea leaves at the seed planting area here as well.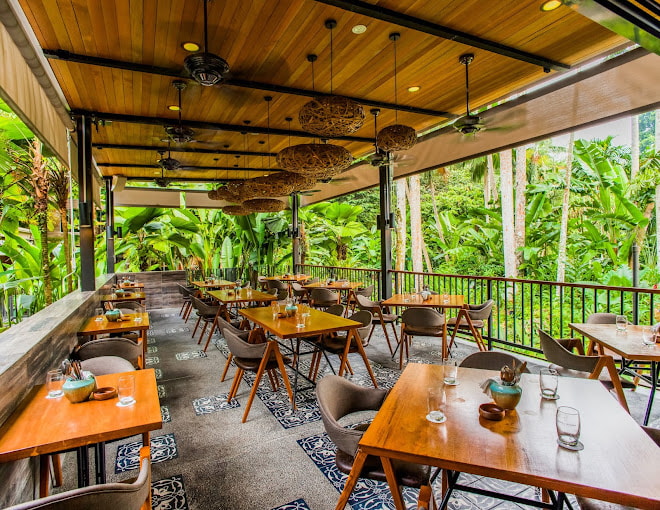 Al fresco dining at The Halia.
Image credit: The Halia
You'll find kid-friendly food options for any budget in the Botanic Gardens. The Halia, a halal-certified restaurant with al fresco seats, has a kids' menu that includes dishes such as beef bolognese and crab pasta spaghettini. Adults can go for brunch-worthy mains from lamb to beef to Singapore-style chilli crab, and plenty of sweets and drinks to end off your meal.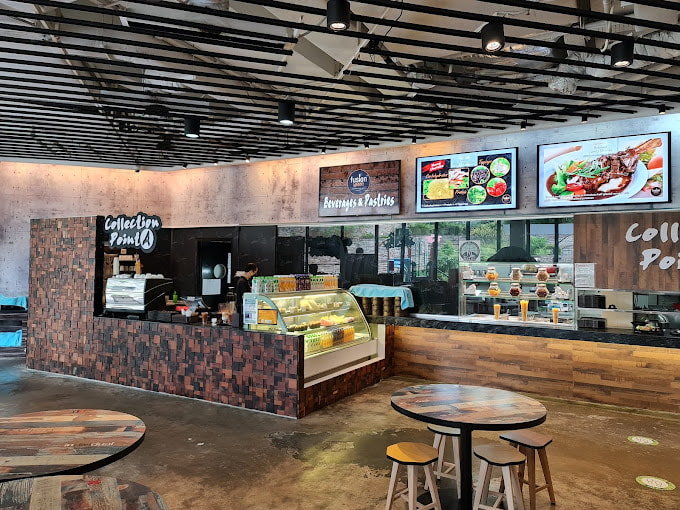 Fusion Spoon.
Image credit: Alexander AikTuan, Oo

Or head to Fusion Spoon food court, where kids can enjoy Korean iced bingsu dessert and ice cream on waffles, besides the Asian and Western mainstay entrees. Many other casual and formal restaurants dot the gardens.
You won't be far from an MRT station to take your family to your next destination, as Botanic Gardens MRT and Napier MRT stations lie at the north and south ends of the gardens respectively.
Admission: Free
Address: 481 Bukit Timah Road, Singapore 259769
Opening hours:
Jacob Ballas Children's Garden: Tue-Sun 8am-7pm (Closed on Mondays, except for public holidays)
Singapore Botanic Gardens: 5am-12am, Daily
Contact: +65 1800 471 7300
---
9. St John's Island, Lazarus Island, and Kusu Island – island-hopping with a view of Riau
---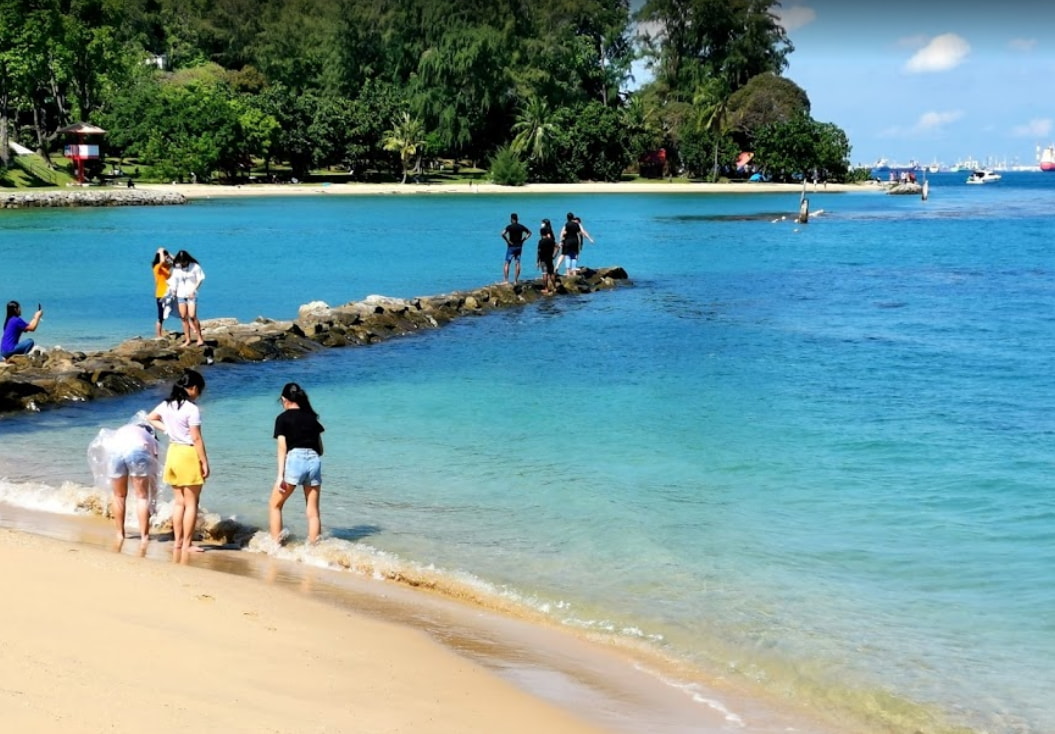 St. John's Island.
Image credit: Nick Lai
For families who love sunny beaches and the invigorating ocean breeze, the Southern Islands might be what you seek. At the Marina South Pier, you can find ferries to get you to 3 islands just off the coast of Singapore: St. John's Island, Kusu Island, and Lazarus Island, each with its own charm.
St. John's Island is a popular local picnic spot thanks to its rustic scenery that's a stark contrast to the busy city of Singapore.

Image credit: Kok wheeler
Go for an intertidal walk along the coast during low tides, and you may spot reef fish, crabs, seagrasses, and other marine life.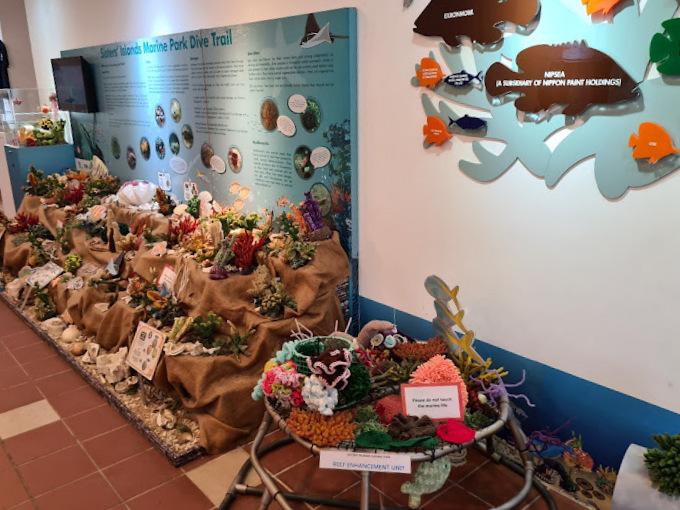 St John's Island's Marine Park Outreach and Education Centre.
Image credit: A Y
The island is also home to the Marine Park Outreach and Education Centre, just a short walk from the dock. It boasts aquariums and viewing pools with a large collection of sea creatures that you can see up close.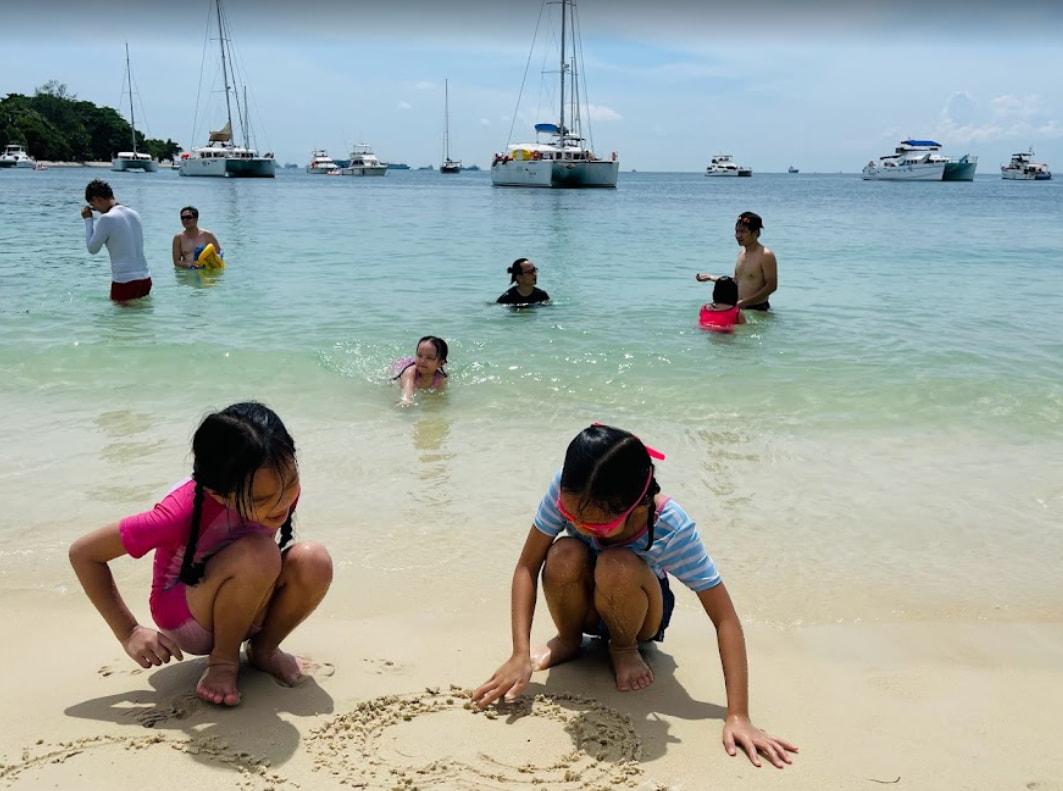 Image credit: Mr Ngo

Lazarus Island is a short 15-minute stroll away from St. John's Island, with both islands connected by a causeway.
Both islands are known for their white sand beaches with clear water, but St. John's beach is just a short walk from the dock and has calmer water, as well as shower facilities and toilets.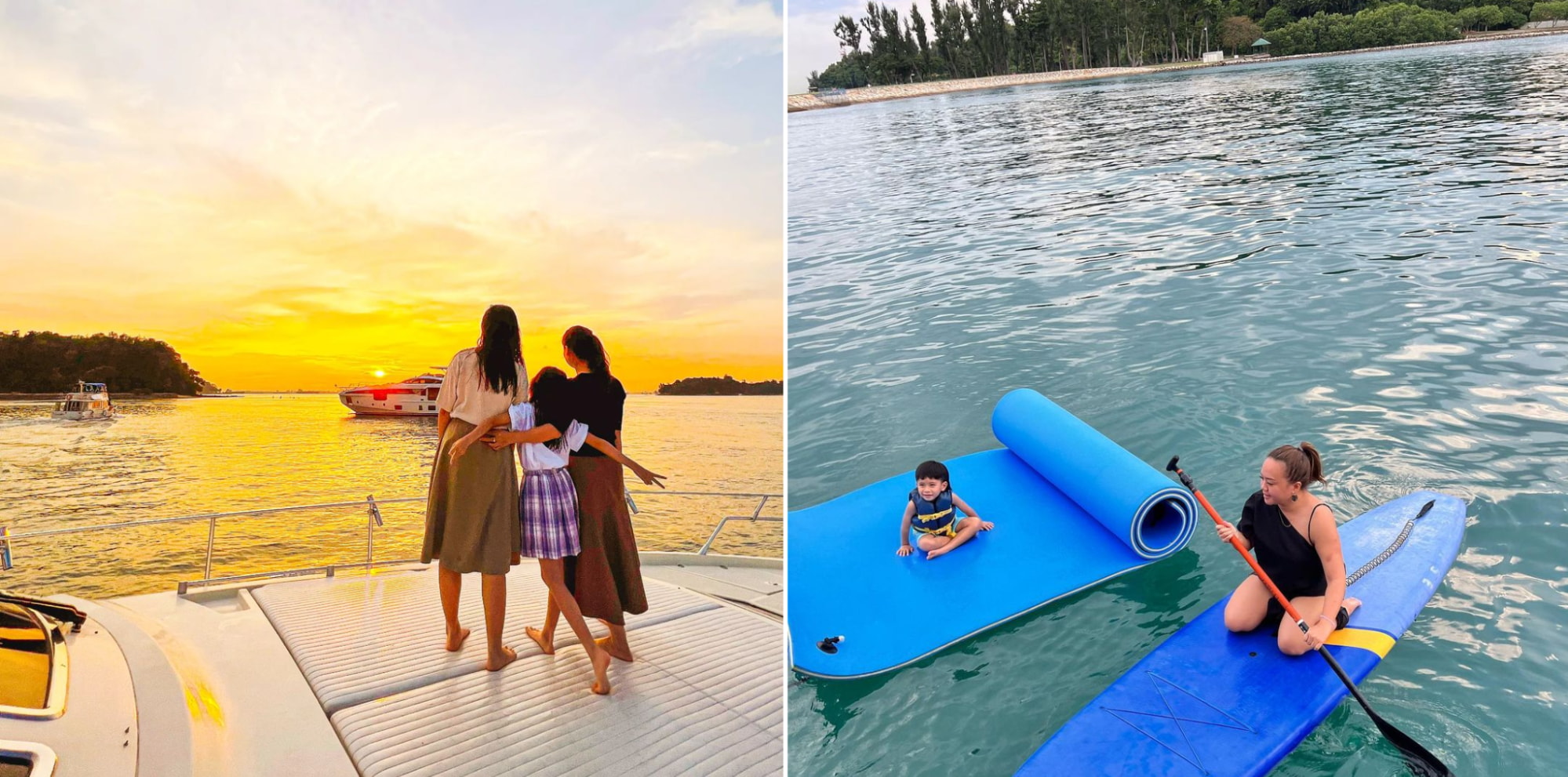 Yacht chartering and paddling are common activities at Lazarus.
Image adapted from @sgfishingcharter and @gwennnxx
Lazarus Beach, on the other hand, takes a while to get to on foot, but in exchange, you're rewarded with a quieter, cleaner, and more private swimming experience.


Image adapted from @ngsuyin and @sg.marineguide
Kusu Island's origins are surrounded by myth and folklore, tying back to a tortoise transforming itself into an island to save shipwrecked men. Little wonder that its name means Tortoise Island in Chinese and that hundreds of tortoises are housed at the Tortoise Sanctuary on the island.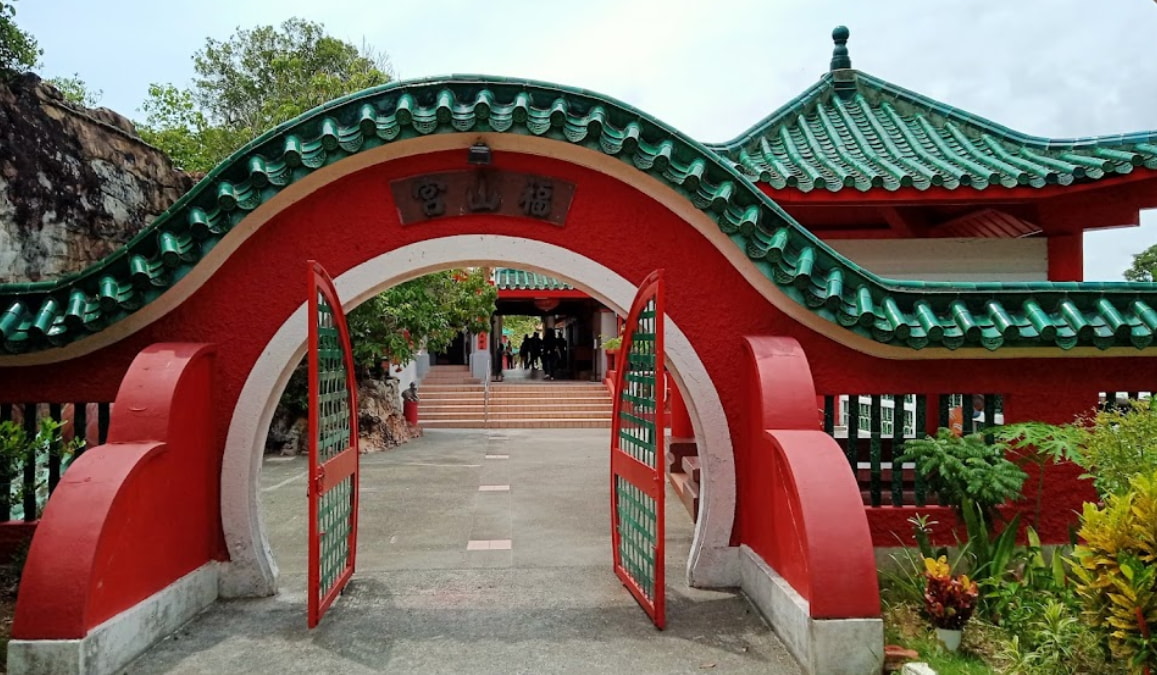 Image credit: Melvin Ho
Here, you can also find a Chinese temple paying tribute to the deities Tua Pek Kong, a god of prosperity, and Guan Yin, the goddess of mercy.
Praying here is believed to bring health, fortune, and peace. After a tour of the island, have a picnic at the shelters, picnic tables and bbq pits around the island.
Book a ferry to the island here. Prices vary from weekdays to weekends and based on the number of islands you are stopping by.
Singapore Island Cruise
Ferry terminal address: #01-04 Marina South Pier, 31 Marina Coastal Drive (above Marina South Pier MRT station, Exit B)
Contact: +65 6534 9339 (8am-3pm) | Singapore Island Cruise's website
---
Family-friendly itineraries for your next Singapore vacation
---
 Yes, Singapore is small, but it is packed with all sorts of fun activities that can appeal to all age groups. So if you travel with your family and kids, consider one of these family-friendly activities to make the most out of your stay.
And remember to keep your VISA card handy – so you can not only tap and pay for these activities in seconds, giving you more time to enjoy your Singapore trip, but also pay for transport as you travel around the island!
For more things to do in Singapore, check out:
---
Cover image adapted from: @babyellllllllll, River Wonders, @gwennnxx, and @sii.0923