Hidden nature sites in Indonesia
---
Indonesia is home to some of the best natural sites in the world. From the world's largest volcanic lake Lake Toba to trekking hotspot Mount Rinjani to the famous temples of Borobudur, backpackers throng these places hoping for fresh adventure.
But while the allure of the old favourites can't be denied, their popularity has made them a little touristy in recent years. So, if you're up for conquering lesser-known yet equally beautiful locales, make Palembang your go-to destination – it's a base-camp for a whole slew of undiscovered Indonesian nature sites and tickets now start from just $52! Here's what you can conquer:
---
1. Feel Iceland vibes at Kaolin Lake
---
Looking at the salt-white rocks splayed across the baby waters of Kaolin Lake, you'd expect it to be a natural lake. However, it is actually a former excavation site that has since been inundated by water.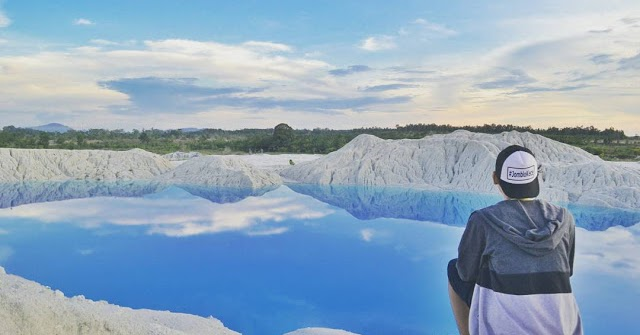 Image credit: Wisata Nusantara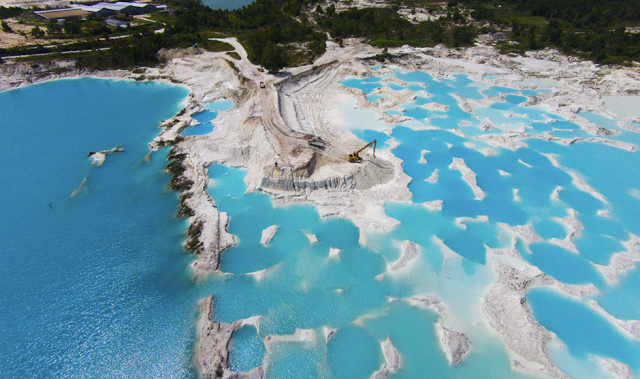 Image credit: Tempat Wisata Di Indonesia Dan Dunia
You can swim in the lake or just gaze at the scenic panorama – a sight you definitely won't see in Singapore. Just don't wear your best shoes as the white powder in the area will stain your soles.
Address: Belitung Island, Indonesia
Getting here from Palembang City: 2 hour flight  to Belitung
2. Lounge around the 99-metre high Bedegung Waterfall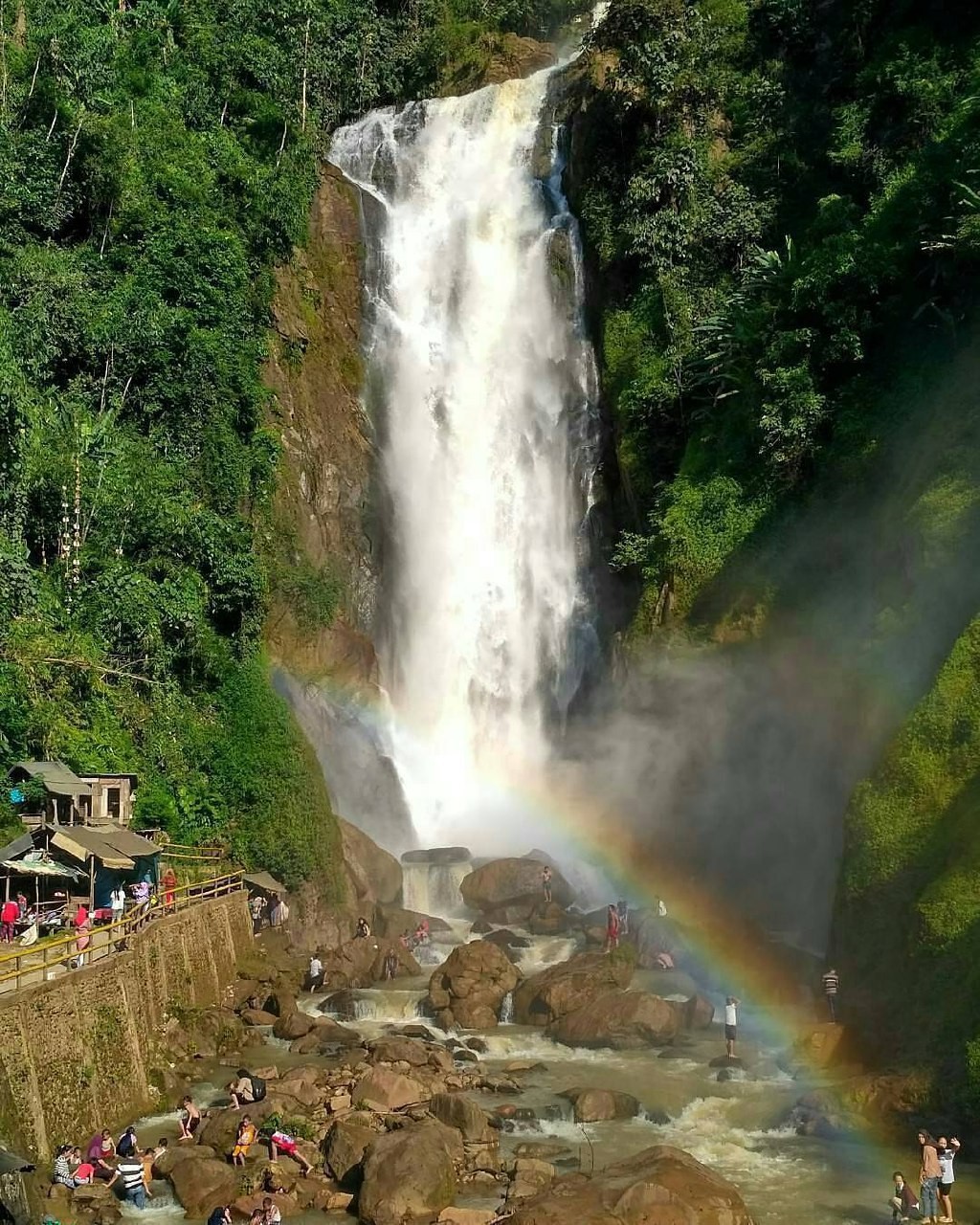 Image credit: @pesonasriwijaya
With a drop of 99m, Bedegung Waterfall thunders into the rocky narrow gorge with so much force it can be heard almost a kilometre away.
Image credit: South Sumatra Tourism
Visitors can do some white water rafting along the Enim River below the waterfall too!
Address:Desa Bedegung, Kecamatan Tanjung Agung, Muara Enim, Indonesia
Getting here from Palembang City: 6 hour drive via Jl. Raya Baturaja – Prabumulih to Muara Enim
3. Travel the world in Punti Kayu Forest Park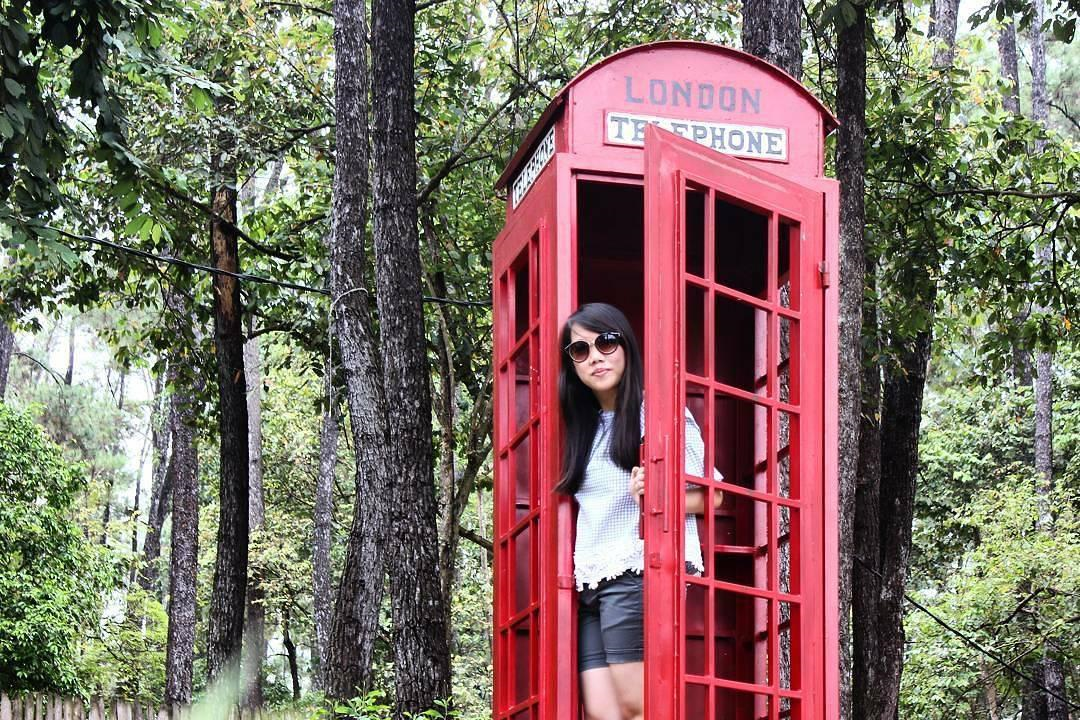 Image credit: @palembang.eksis
Trick your friends into thinking you've travelled the globe by 'gramming it up at the on-site replicas of famous global landmarks like the Eiffel Tower, the Leaning Tower of Pisa and the Statue of Liberty.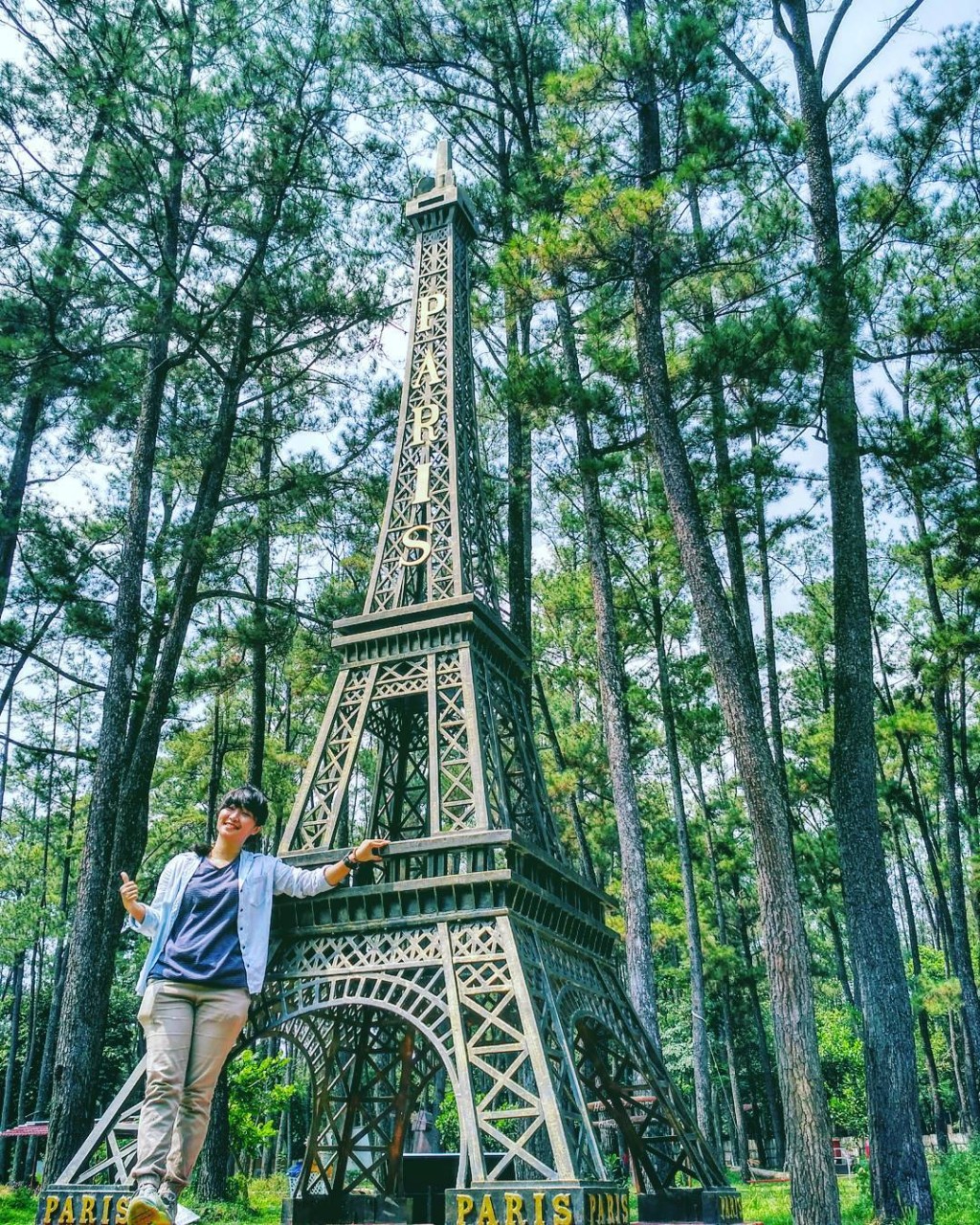 Image credit: @kodden_kidd
With its towering trees that filter sunlight in seams of gold, the Punti Kayu Forest Park provides the perfect backdrop for your forest fairy-themed photoshoot.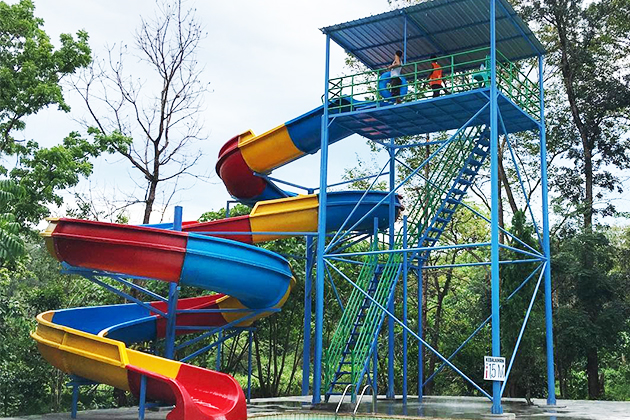 Image credit: @puntikayu
Plus, there are also water slides and a flying fox if you're looking for that adrenaline rush!
Opening Hours: Monday to Friday | 09.00 – 16.00 (Ticketing closes at 15.00)
Price: From Rp. 10,000
Address: Jl. Kol. Burlian, Karya Baru, Alang Alang Lebar, Kota Palembang, Sumatera Selatan 30114, Indonesia
Getting here from Palembang City: 26 minutes car ride from Sultan Mahmud Badaruddin II International Airport, Palembang
4. Look upon a heart-shaped lake on Kendi Hill
Lovebirds, make Cinta Lake a top-priority visit. The grassy expanse, coupled with the baby blue sky, would have anyone believing that they're in Middle Earth.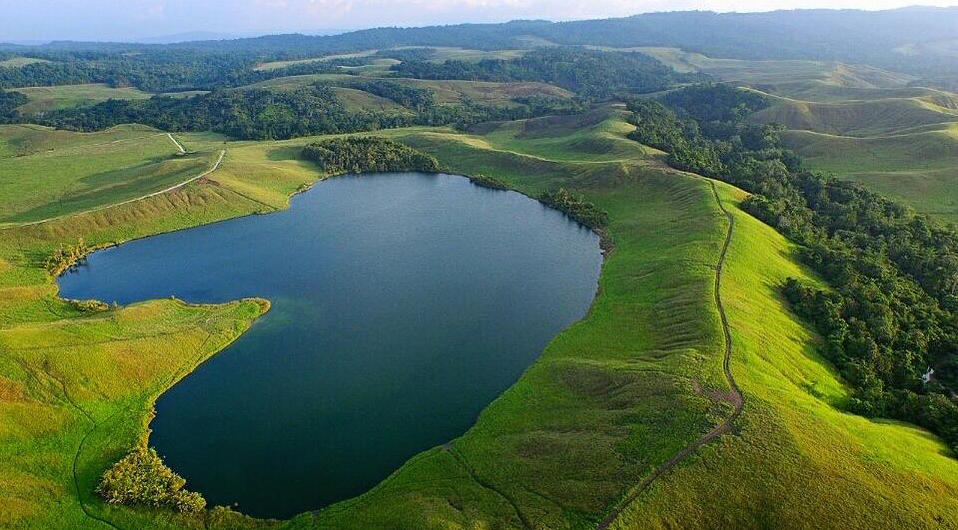 Aerial view. Image credit: wiranurmansyah
But all that pales in comparison to the bird's eye view where you'll see a perfect heart shape, adding to the romantic vibes of the area. Here, you can have a picnic or go fishing.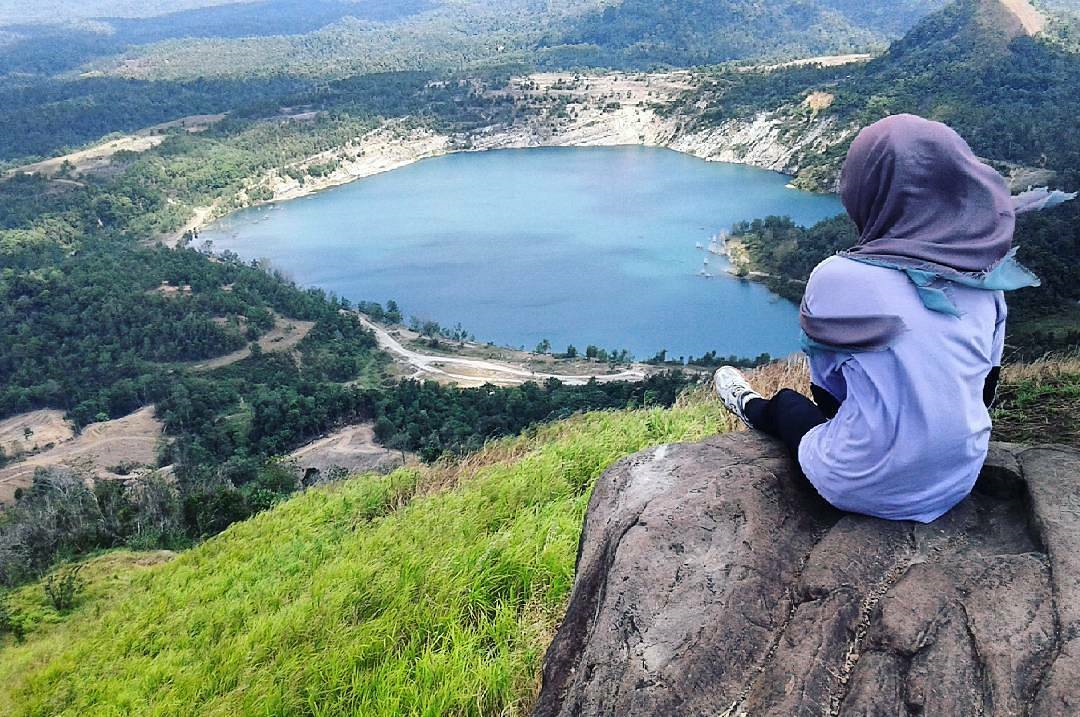 Top of Kendi Hill. Image credit: @muaraenim_terkini
If you're wondering where's the best view of Cinta Lake, look no further than Kendi Hill. Reaching the peak takes a 45-minute trek but it'll be worth it once you see the stunning panoramic views!
Address: Tanjung Enim Selatan, Lawang Kidul, Darmo, Muara Enim, Kabupaten Muara Enim, Sumatera Selatan 31355, Indonesia
Getting here from Palembang City: 5.5 hour drive via Jl. Jendral Sudirman to Muara Enim
5. Sip some fresh tea at Dempo Tea Plantation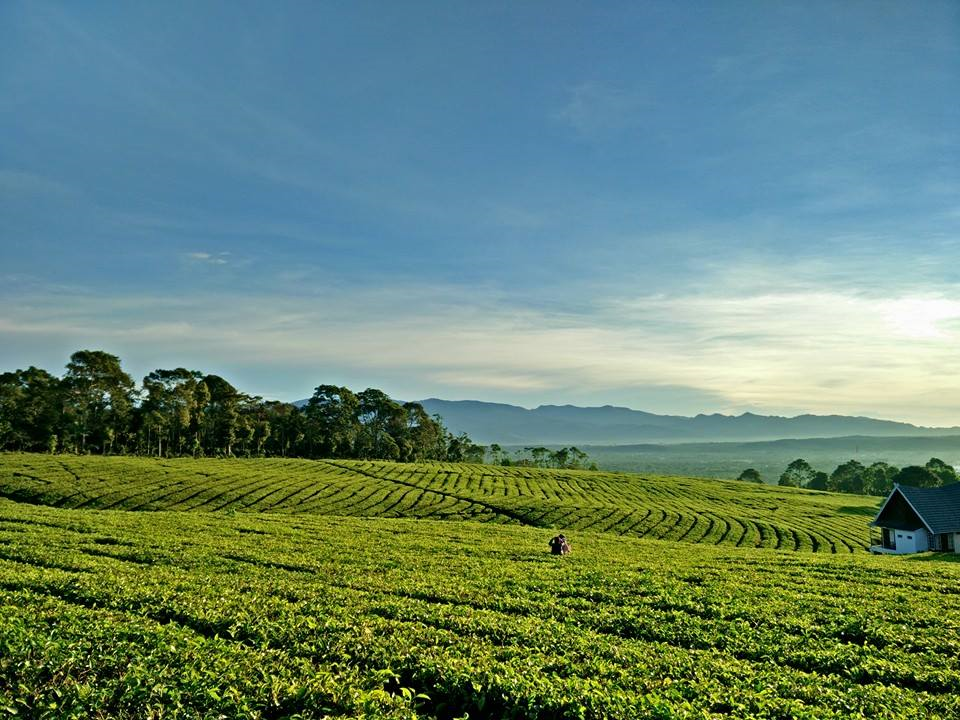 Image credit: Felix Iryantomo
Blanketing the area surrounding Mount Dempo is the lush greenery of the Dempo Tea Plantation. Inhale the crisp mountain air as you sip freshly-brewed Dempo tea. Visit the tea factory and witness how the fresh tea leaves are made into a delicious cuppa.
Address: Besemah Highlands, Pagar Alam 31581, Indonesia
Getting here from Palembang City: 40 min flight to Pagar Alam
6. Travel back in time at Putri Cave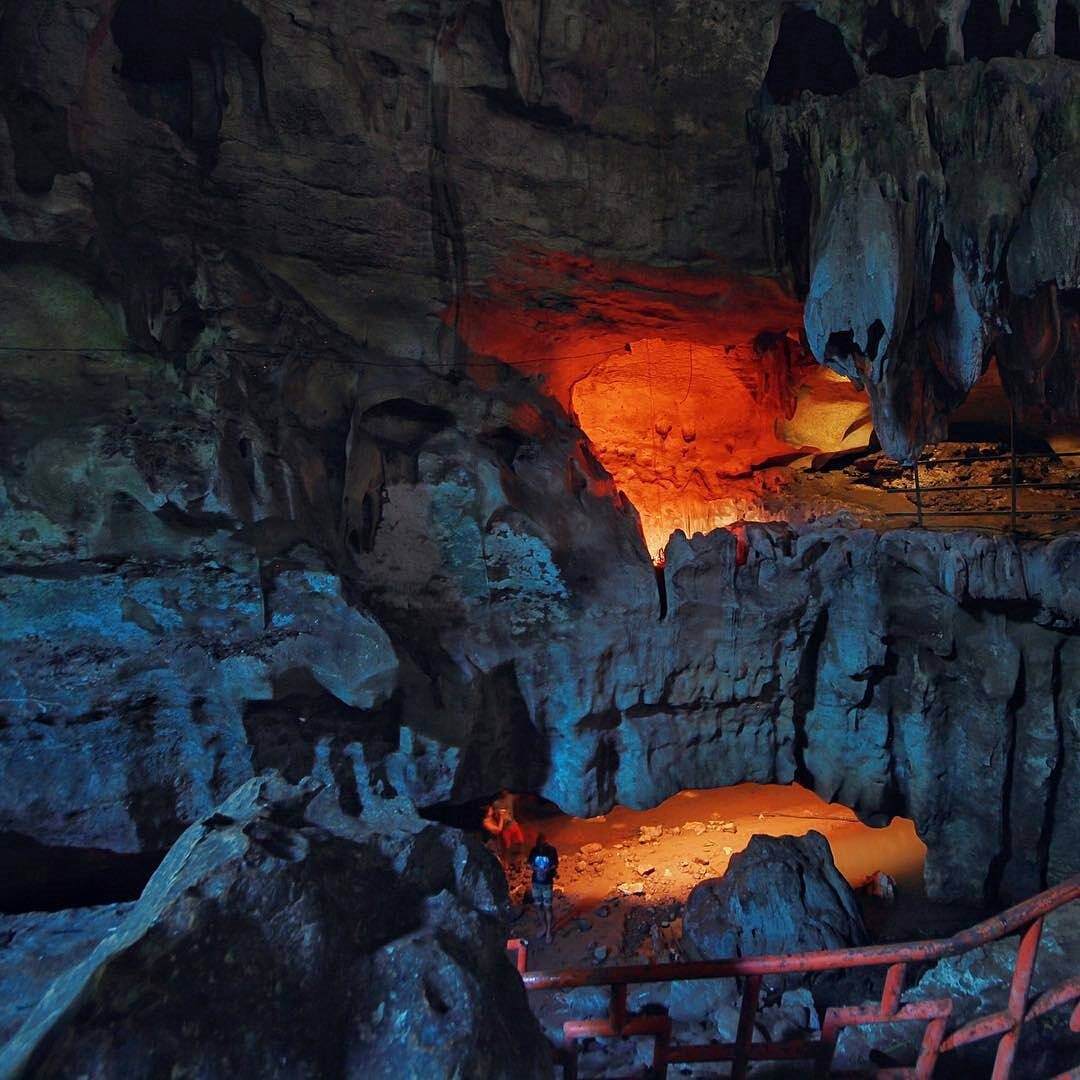 Image credit: @wonderfulsriwijaya
Witness a land before time at Putri Cave which used to house cavemen in prehistoric times. As you navigate past the stalagmites on the ground, keep an eye out for remnants of a bygone era – past discoveries include human bones, fossils and old hunting tools.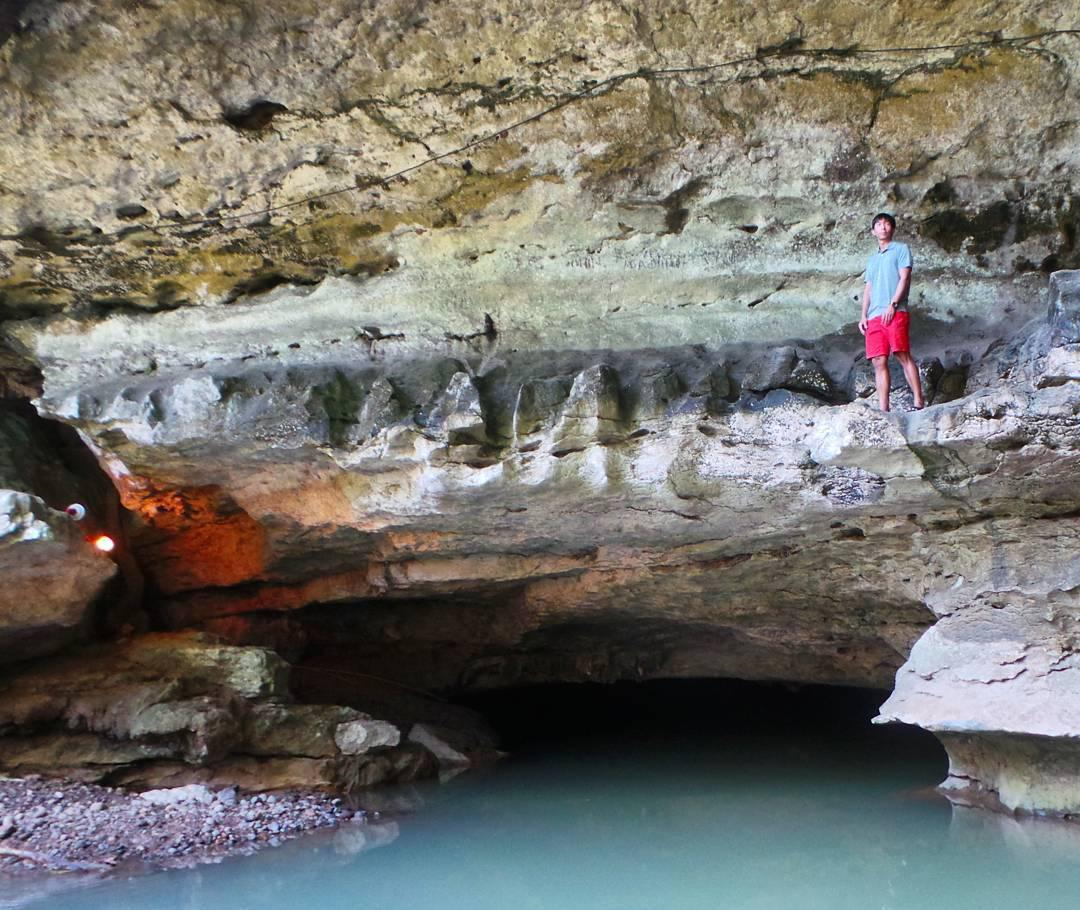 Image Credit: @suzannita
Walking down the path will lead you to a pristine, underground pool. Locals believe that washing your face here will make you look younger!
Opening Hours: Monday | 06:00 – 22:00, Tuesday – Saturday | 1000 – 1700
Price: Rp. 5,000
Address: Padang Bidu Village, Semidang Aji District
Getting here from Palembang City: 5 hour drive to Semidang Aji, Ogan Komering Ulu
7. Glide along in a boat on Lake Ranau
The second largest lake in Sumatra, Ranau Lake is often forgotten in favour of Lake Toba. That's good news for those who seek some peace and quiet without pesky tourists. Feel calm as you gaze into the sapphire waters that meet the horizon, all from the comfort of a rental boat.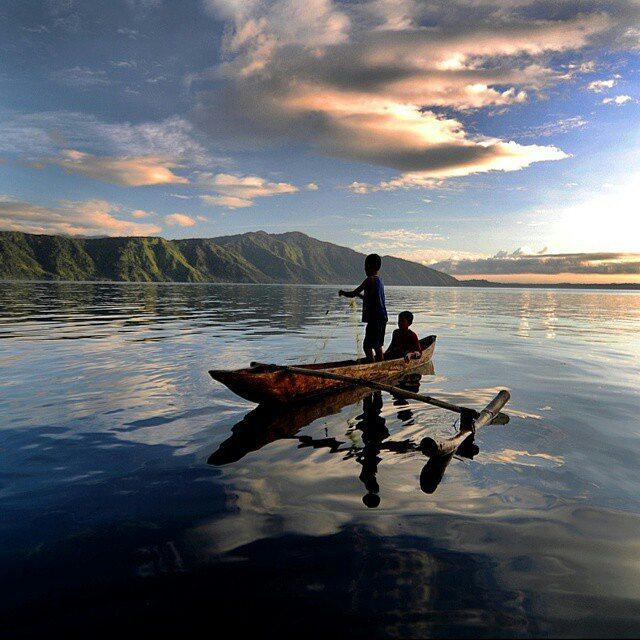 Image Credit: @kelilinglampung_
Standing on the edge of the lake is Seminung Mountain, a remnant of the volcano which created Ranau Lake. As the volcano is still active, you'll find hot springs at the mountain's foot. Dip in it before continuing your boat ride to the coffee plantation at the other end of the lake.
Address: West Lampung, Lampung Province, Ogan Komering Ulu Regency, South Sumatra, Indonesia
Getting here from Palembang City: 8 hour drive via Jl. Raya Baturaja – Prabumulih to West Lampung, Ogan Komering Ulu
8. Look at the clouds up close at Besak Hill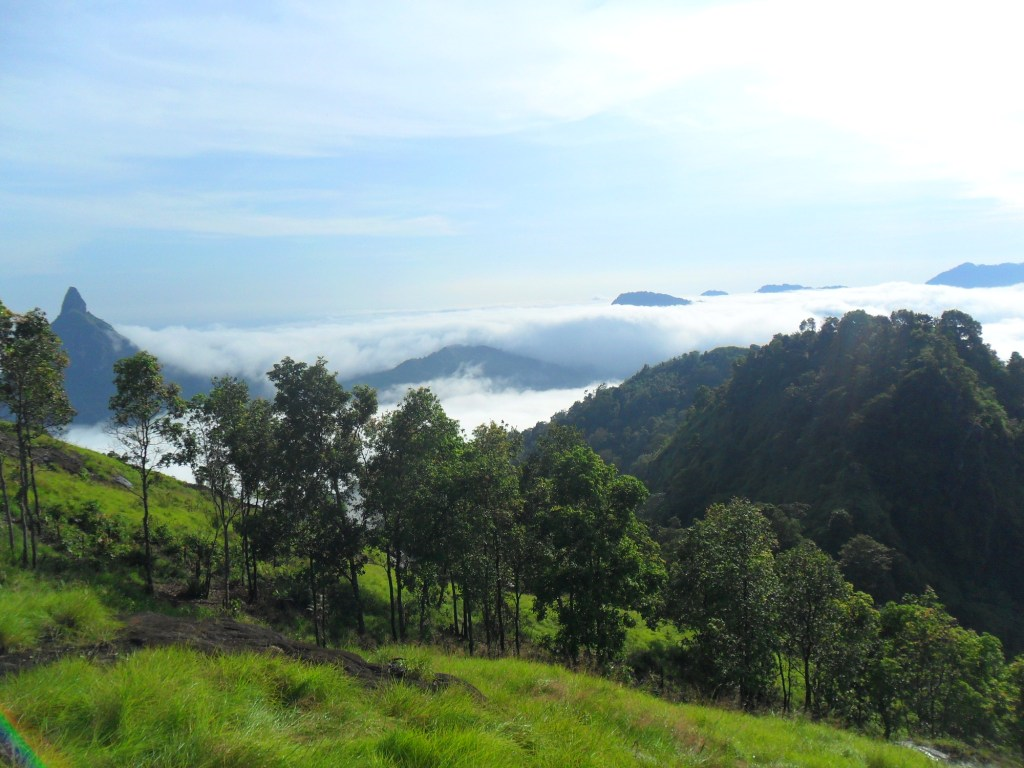 Image credit: Idris Akhmad
Be mentally prepared before climbing up Besak Hill. After all, its peak is 1700m above sea level! But the view at the summit: priceless. See clouds up close as you lie on the comfy fields that cap the hill.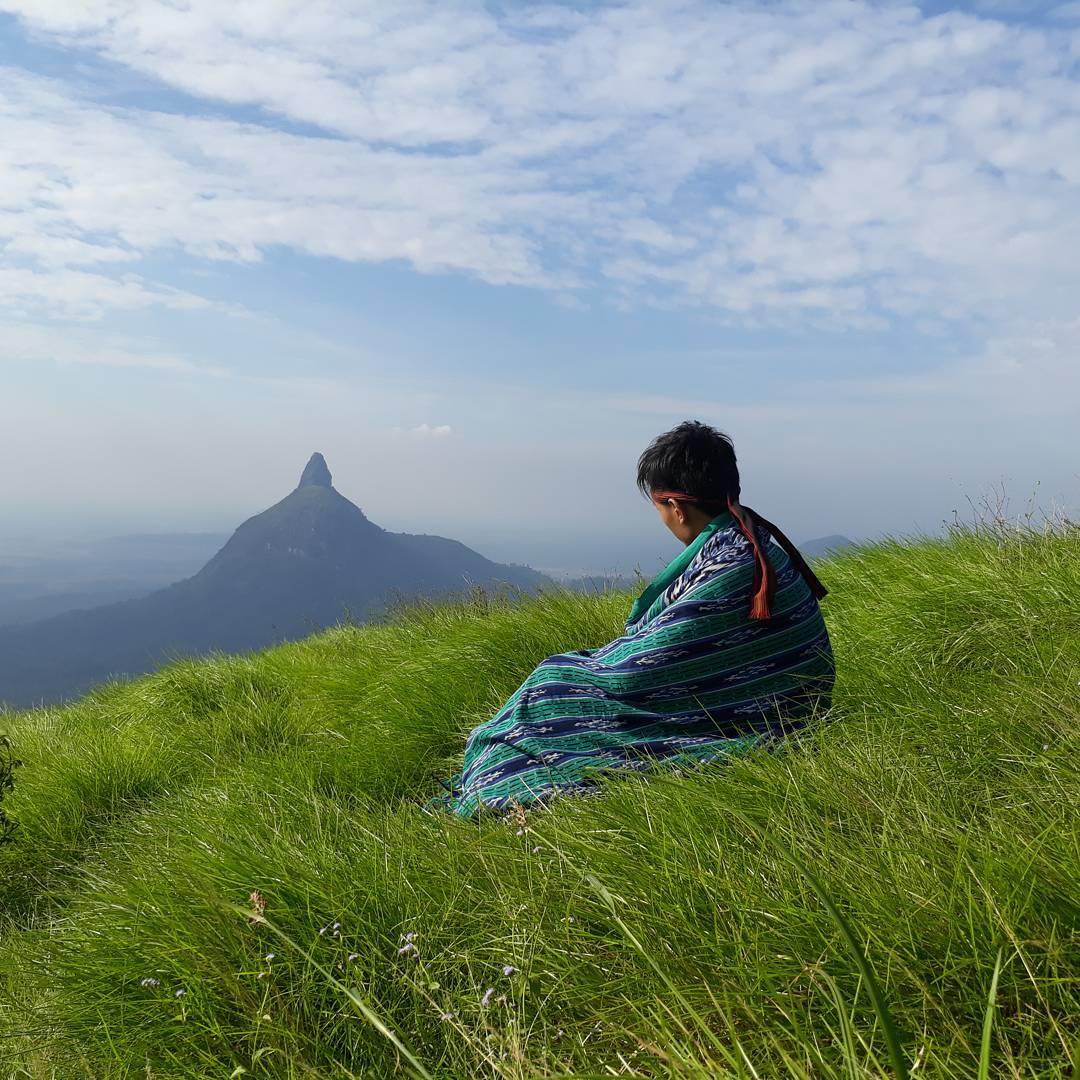 Image credit: @pejalanancupu
Try spotting the thumb-shaped Sorelo Hill just across Besak Hill, too!
Address: Lubuk Pedara, Merapi Selatan, Lubuk Pedara, Lahat, Kabupaten Lahat, Sumatera Selatan 31471, Indonesia
Getting here from Palembang City: 5 hour drive via Jl. Raya Lintas Timur Palembang – Prabumulih and Jl. Jendral Sudirman to Lubuk Pedara
9. Ride 7m waves at Tanjung Setia Beach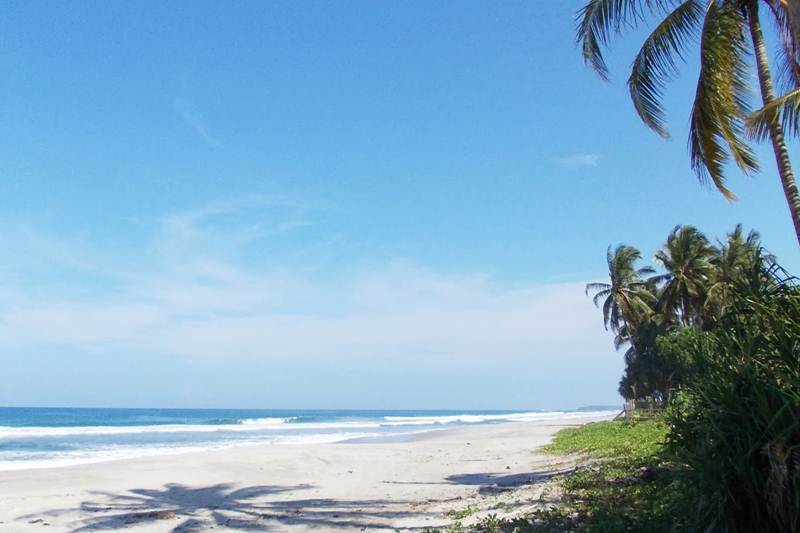 Image credit: Jejak Piknik
Tucked behind the thick forests in Lampung is the Tanjung Setia Beach. Not many people seem to know about the ultra-secluded area which, fortunately, lends to its untouched condition.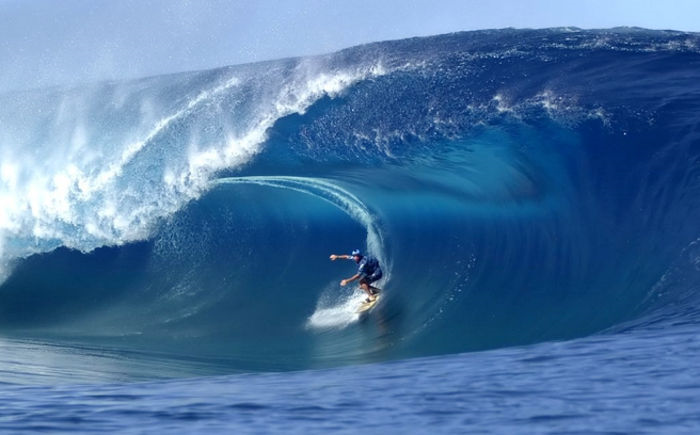 Image credit: Ragam Wisata Indonesia 
Besides its pearly-white sands, it is also home to one of the best waves in the world. Surfers, hoping to hang ten, should come between June to August as that will be when waves hit their peak high – reaching heights of as high as 7 metres!
Address: Tanjung Setia Village, Pesisir Selatan, West Lampung, Lampung, Indonesia
Getting here from Palembang City: 1 hour flight to Lampung, followed by 6 hour drive to Tanjung Setia
10. Soak in the warm waters of Gemuhak Hot Springs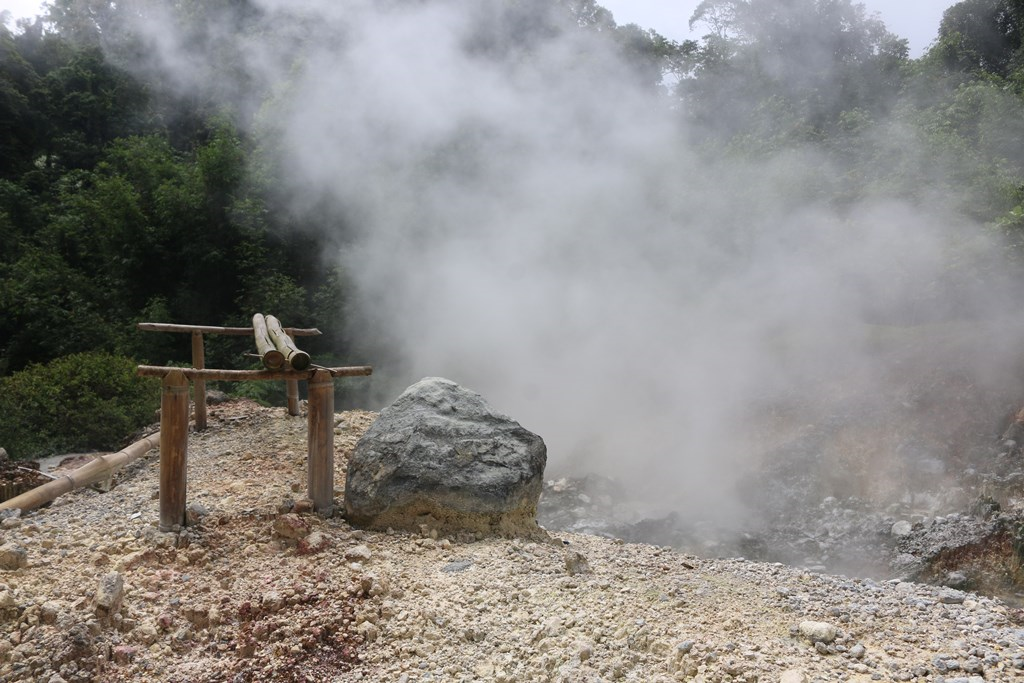 Image credit: KSM Tour
Thanks to Gemuhak Hot Springs, you won't have to travel all the way to Japan just to experience the soothing goodness of an onsen outdoors. The hot water here contains high amounts of sulphur and iodine – great for treating skin diseases.
Tip: Don't miss the chance to try their onsen eggs which are said to have a richer taste due to the natural saltiness of the water.
Address: Bukit Umang, Desa Penindaian, Kecamatan Semendo, Muara Enim, Indonesia
Getting here from Palembang City: 7 hour drive via Jl. Raya Baturaja – Prabumulih to Bukit Umang
Scoot to these places via Palembang
If you're set to tick these places off your bucket list but aren't sure just where to begin, Palembang is a good place to start as all these sites can be accessed via a ride or domestic flight from here.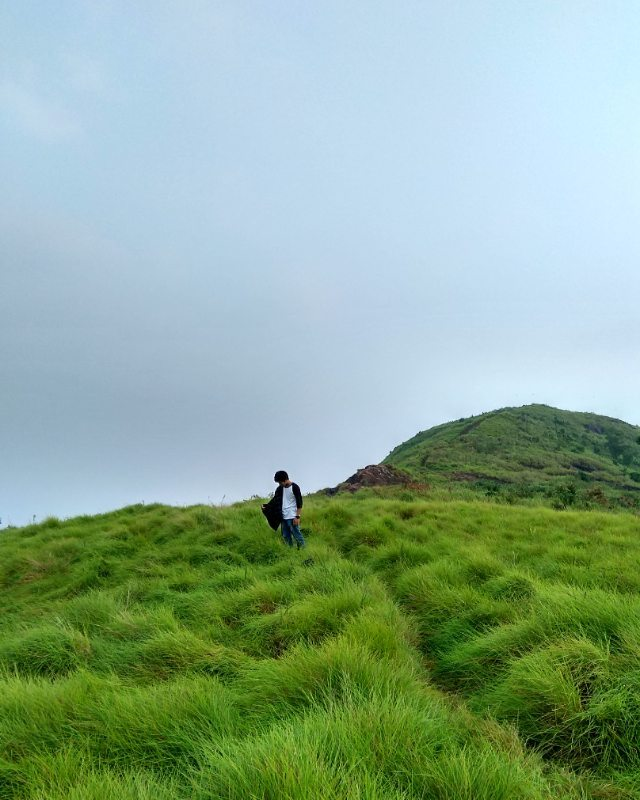 Image credit: @muaraenim_terkini
Not only is the city a solid base-camp for that short weekend trip or backpacking expedition, it's an exciting city packed with delectable kuehs, quirky forest parks and architectural bridges – and it's all just an hour's flight away from Singapore.
Beginning 23 November 2017, Scoot will be offering flights to Palembang 3 times a week! From just $52, you'll get to set foot on these pristine and untouched locales without a huge dent in your wallet.
So book your flights now and set yourself apart from other backpackers!
---
This post was brought to you by Scoot.
Enjoying The Smart Local Indonesia? Follow us on Facebook, Twitter, and Instagram for more stories like this.